was .
NWTRCC regulars were joined by curious locals like Tom Quinn of EcoWatch and Michael Patterson from Dennis Kucinich's office (our meeting place is in Kucinich's House district and he was curious enough to send an aide to take notes).
A few things jumped out at me during the opening introductory go-'round:
Jim Stockwell of North Carolina mentioned that after some initial mutual suspicion there was surprising synergy between the traditional Tax Day protest his war tax resistance group held and the Tea Party protests going on at .
Many of the local groups reported diminishing numbers and less-frequent activity in the past months, mirroring a general doldrums in the peace movement.
Bill Ramsey noted that it has become harder to set up alternative funds in the post-9/11 financial paperwork era.
Ramsey also reported on an interesting and creative tax day protest in his neck of the woods. A group grabbed hundreds of 1040 forms from public places where such things are found (libraries, post offices, and the like), then printed ghostly images of coffins and of children wounded in war over the forms, and then replaced them where they had originally found them.
Ginny Sсhnеider noted that in New Hampshire, the notoriety of the Ed and Elaine Brown tax protester stand-off fiasco has made it difficult for her to do outreach in the progressive community. People hear "tax resistance" and immediately their minds conjure up images of nuts holing up with their arsenals and their conspiracy theories until the government locks them up for life.
We watched a near-final cut of a film NWTRCC is producing about war tax resistance and resisters: Death and Taxes. It met with great acclaim (and plenty of suggestions for last-minute edits). Last I heard, it's due for release .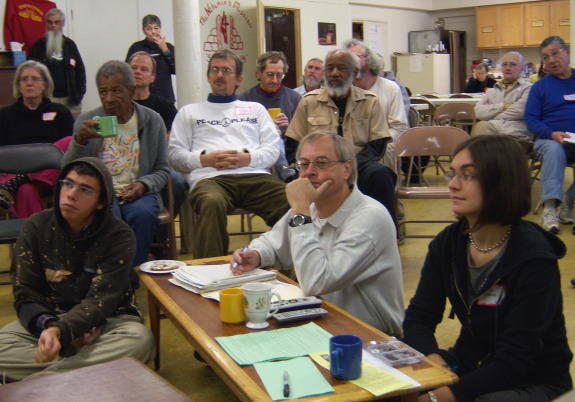 Later, Phil Althouse, an election observer in El Salvador, updated us on conditions there, and Mike Ferner of Veterans for Peace talked about how to move from activism to organizing and build bonds between disparate parts of the broader anti-war coalition.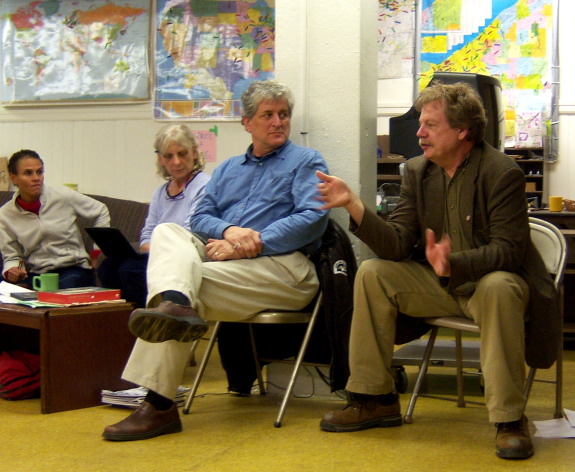 While coalition building always sounds great in the abstract, when it comes down to actually doing it, it runs into the practical difficulty of finding a common ground and deciding where to compromise and where no compromise is possible. Ferner thought that organizing around the larger vision of real democracy was the way to go. Other folks were skeptical. It can be difficult to find anything approaching an ideological common ground even in a small group like NWTRCC with an inherently common, specialized and political interest.
In members of NWTRCC there's often a tension between avowed nonviolent principles and promotion of progressive projects (like universal health care and publicly-financed elections for instance) that fundamentally rely on a coercive, violent state to carry them out. The avowedly nonviolent progressives either don't see the violent ramifications inherent in such projects or I have failed to understand the ingenious way they have squared this circle. I usually avoid the temptation to press the point, but sometimes give in.
Anyway, after this we split up into two groups: a War Tax Resistance 101 discussion group that I moderated, and a larger group that discussed issues of interest to more experienced resisters. There were other groups that met over the course of the afternoon as well, but by then I found it hard to be in even one place at once.
In the evening we heard more in-depth stories of the tax resistance from our hosts, Maria Smith and Charlie Hurst, and from Juanita Nelson and Erica Weiland. Juanita Nelson told the story of her arrest-in-a-Sears-bathrobe that she also tells in A Matter of Freedom. Erica described her transformation from a young Dean Democrat to a tax resisting anarchist (a salvation narrative in which, to my delight, The Picket Line plays a role).