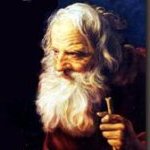 One thing that you may have noticed about Aristotle's Nicomachean Ethics, as I've been describing it so far, is that it seems extraordinarily individualistic.
The ultimate end of our activities is eudaimonia, which is an assessment of individual human flourishing and success. The best sort of eudaimonia is a life of philosophic contemplation, which you can do all by yourself.
There is almost no discussion of family, except some brief mention of the father's dominion over the family as being a variety of justice and of the necessity of bringing up children well so that they will be virtuous. Romantic relationships get no attention.
His example virtues are done with the motive of being virtuous, any people they effect are mere props. Courage in battle is for the sake of courage, not for the sake of your fellow-soldiers. Temperance is all about self-control. Honor, ambition, good temper, honest self-assessment: these are all for the greater glory of Me.
Other-facing virtues (or potential virtues) like loyalty, trustworthiness, kindness, obedience, devotion, gratitude, love, candidness, reliability, and sensitivity are absent. Even friendliness and wit, though exercised socially, are matters of bringing honor on oneself, not of respecting the needs of others. Justice is a matter of regulating our interactions with others not with them in mind, but with a mathematician's attention to proportionality. Liberality and magnificence are ostensibly acts of generosity towards others, but are done from self-interested motives.
But Aristotle devotes two books of his ten-book examination of ethics to the subject of friendship, which he describes in explicitly altruistic, other-focused terms, at least in its best form.
Today I'll try to summarize the first of these two books:
Index to the Nicomachean Ethics series

Aristotle's Nicomachean Ethics

Book Ⅰ

Book Ⅱ

Book Ⅲ

Book Ⅳ

Book Ⅴ

Book Ⅵ

Book Ⅶ

Book Ⅷ
Book Ⅹ