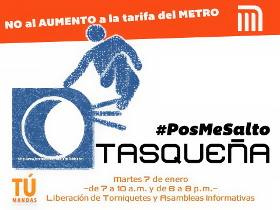 Mexico has long been considered a low-tax country. The amount of tax revenue the government rakes in, as a percentage of the nation's economy, has been small when compared to similar countries.
But what may seem like a feature to you and me seems like a bug to those in power, and to the international economic advisors and arm-twisters who see the Mexican economy as an insufficiently-wrung-out sponge.
The governments of Mexico are aggressively trying to bring in more revenue, in a number of ways, and in at least two of these they're starting to get push-back from tax resisters:
The government hiked the price of a fare in the Mexico City subway system by two-thirds. A movement called "Pos Me Salto" ("Well then, I'll jump") is encouraging people to become fare evaders in protest, and has organized turnstile-jumping protests in metro stations (here are some photos).
The government also raised the value-added tax rate in regions bordering the U.S., which has made border-area businesses less competitive. The tax also applies to a new set of previously untaxed products, and is an additional economic strain on those living there. Some have taken to refusing to pay the tax at the checkout counter when purchasing such items.