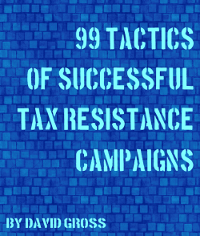 99 Tactics of Successful Tax Resistance Campaigns
by David M. Gross
Tax resistance campaigns can make history if they first learn the lessons history has to teach. "99 Tactics" helps your campaign succeed by showing you how to apply proven tactics of successful tax resistance campaigns from around the world.
"His book is a goldmine of research and is very readable, besides" … "a fascinating, inspiring read"

 — 

Claire Wolfe, Living Freedom

"informed and informative… highly recommended"

 — 

Midwest Book Review

"stimulating and rewarding"

 — 

Friends Journal

"clear, confident, meticulously-researched"

 — 

More Than a Paycheck

"a whole lot more than a list of tactics… It is a book that digs deeply into every aspect of tax resistance."

 — 

Ground Zero

"carefully researched and engaging… with concrete and vivid examples drawn from tax resistance campaigns over thousands of years of history and across the globe."

 — 

Western Friend
Read a sample: "Chapter 4: Tactics that Support Tax Resisters" or download workshop materials to help you tune up your tax resistance campaign.