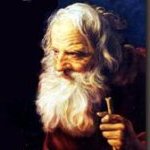 In the sixth section of the tenth book of The Nicomachean Ethics, Aristotle begins to wrap up his argument by bringing us back to eudaimonia, that difficult-to-translate word that Aristotle has put forth as his candidate for the ultimate end we all ought to be aiming for.
Aristotle reminds us of what he's already said on the subject (mostly in Book Ⅰ):
Eudaimonia is an activity, not a disposition.
Eudaimonia is among those activities that are good in and of themselves, not those that are good for the sake of something else.
Two things that seem to meet this description are 1) virtuous actions, and 2) recreational actions. Both are done for their own sake (remember that Aristotle has said that the virtuous person does virtuous acts for the love of acting virtuously, and not for any utilitarian results).
There's a sort of vulgar understanding of "the good life" in which recreation takes a big role ("Lifestyles of the Rich & Famous"). But Aristotle thinks it's a mistake to look to the decadent ruling class to figure out what the ends of life are. If recreational amusement were the ultimate end of life, how trivial life would be. Instead, look to the virtuous.
Recreation has its place, not as an end in and of itself, but as a way of relaxing in preparation for, or to recover from, more noble activity. That is to say that, truly understood, recreation isn't an end to itself but is a means to an end after all. A life of eudaimonia is a virtuous one, which is more a matter of exertion than amusement, pleasurable though it be.
Index to the Nicomachean Ethics series

Aristotle's Nicomachean Ethics

Book Ⅰ

Book Ⅱ

Book Ⅲ

Book Ⅳ

Book Ⅴ

Book Ⅵ

Book Ⅶ