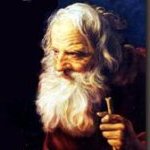 , I summarized book eight of Aristotle's Nicomachean Ethics, the first of two books on the subject of friendship. , I'll summarize what Aristotle says in book nine:
Coincidentally, a review of the history and philosophy of friendship was published a couple of days ago in The Chronicle of Higher Education.
This concludes our look at The Nicomachean Ethics.
Index to the Nicomachean Ethics series

Aristotle's Nicomachean Ethics

Book Ⅰ

Book Ⅱ

Book Ⅲ

Book Ⅳ

Book Ⅴ

Book Ⅵ

Book Ⅶ

Book Ⅸ
Book Ⅹ