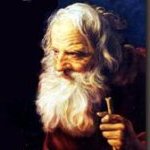 Way back in book one, Aristotle teased us with the idea that there were three types of people: the vulgar, to whom simple pleasures are the ultimate good; the political, to whom honor is the ultimate good; and the contemplative, whom he promised he'd explain in due time. That time has finally come.
In the seventh section of the tenth book of The Nicomachean Ethics, Aristotle says that the best and most prized variety of eudaimonia is the contemplative life, the life of a philosopher. This should come as no surprise, since that's the kind of life Aristotle decided to live.
Reason, Aristotle says, is the best of the human faculties. And the objects of reason are the best object-matter there is for a faculty to operate upon. So it follows that the unimpeded and vigorous exercise of reason, accompanied by the pleasure that crowns such unfettered use of a faculty, ought to be the best sort of pleasure there is to be had: a recipe for eudaimonia in the highest.
Philosophical contemplation is something that you can do on a nearly continuous basis, stopping only to tend to bodily needs now and again, assuming your life is such as affords you the time away from life's necessities to philosophize. Even granting that philosophy requires some "leisure" time, it's still something that's more available to people than many other pleasures: people are self-sufficient to practice philosophy; all it requires is you, your mind, and some breathing room.
Compare this to, say, the person of honor practicing justice. This is a virtue, but it's less self-sufficient in that not only do you need just as much freedom from life's necessities to practice justice as to practice philosophy, but you also need some sort of occasion that calls for justice and some people to practice your justice on or with.
Furthermore, justice is usually about restoring a just stasis: either completing some mutually-beneficial transaction in a just way, or restoring justice to a scenario in which injustice has intruded. Either way, the act involves participating in an uncomfortable transition state, one in which justice is a necessary exertion, on the way to a just and correct end state in which you can relax and set the tools of justice aside. Philosophical contemplation, on the other hand, is complete and enduring: it isn't a tense transition between states, and it doesn't seek an end state that makes itself obsolete.
As with justice, so with bravery or politics: The purpose of the brave warrior is to win the peace, not just to keep picking new fights; the purpose of the art of politics is not to practice politics but to establish and maintain a polis in which people have the stability and bounty that enables them to pursue arts more noble than politics.
It seems to me that Aristotle here is backtracking a bit from his earlier insistence that the virtuous person practices virtues for the sake of being virtuous, not for any other ends that happen to be associated with the virtue. In other words, the just person behaves justly for the sake of acting justly, not for the sake of what is just; the brave warrior fights bravely for the sake of being courageous, not for the sake of winning the battle; and so forth. On the other hand, he's certainly right that justice doesn't make sense without there being some injustice that needs to be corrected or avoided; bravery doesn't make sense in the absence of some threat worth facing; and so forth. Contemplation, on the other hand, only requires that you be capable of contemplating and have the leisure time in which to do so.
He ends this section by regretting that our nature as contemplative souls wedded to animal bodies means that we are unable to simply plunge into a life of unceasing philosophical contemplation (we have this body we have to attend to). But make no mistake, the contemplative part of us is superior to the animal part of us. The reasoning part of humans is a spark of the divine inside of us, our most true self, and we ought to attend to this spark, and thereby "so far as we can, make ourselves immortal, and strain every nerve to live in accordance with the best thing in us."
Remember also that in another section of book one, Aristotle thought it was important to ask whether humans have a purpose — a function, like the way eyes are for seeing with or a shovel is for digging. He concluded that the exercise of our rational faculties must be our unique purpose, since nothing else other than humans is able to do it. He didn't take this argument much further there, but he applies it to his conclusion here: "That which is proper to each thing is by nature best and most pleasant for each thing; for man, therefore, the life according to reason is best and pleasantest, since reason more than anything else is man. This life therefore is also the happiest."
Index to the Nicomachean Ethics series

Aristotle's Nicomachean Ethics

Book Ⅰ

Book Ⅱ

Book Ⅲ

Book Ⅳ

Book Ⅴ

Book Ⅵ

Book Ⅶ