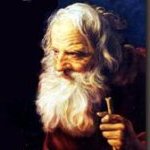 The concluding sections of book seven of The Nicomachean Ethics concern pleasure, and whether it is something good, bad, or it-depends. Pleasure is also the subject of book ten.
These sections also appear in The Eudemean Ethics, which seems to be considered a less-mature treatment of the subject by Aristotle. For this reason, some of our panel of translators and commentators omit them in favor of book ten (Browne, Gillies, Lewes, Vincent), include them as an appendix (Chase), or include them but label them "superfluous" (Grant); others are content to include them on equal footing with the rest of The Nicomachean Ethics.
I think what I'll do is go through these sections through to the end of book seven, then skip ahead to book ten before circling back and finishing off with books eight and nine (both of which concern friendship).
But first, a quick review of what Aristotle has already said about pleasure and pain:
Index to the Nicomachean Ethics series

Aristotle's Nicomachean Ethics

Book Ⅰ

Book Ⅱ

Book Ⅲ

Book Ⅳ

Book Ⅴ

Book Ⅵ

Book Ⅹ