was the business meeting of the NWTRCC national gathering. The way NWTRCC is organized, most of the group decisions are made using a version of the consensus model of decision-making, in which everyone present is part of the "coordinating committee" which advises and consents on the various agenda items.
The business meeting usually has a tight agenda, and this one was no exception, but we have a good track record at setting and keeping to a good schedule.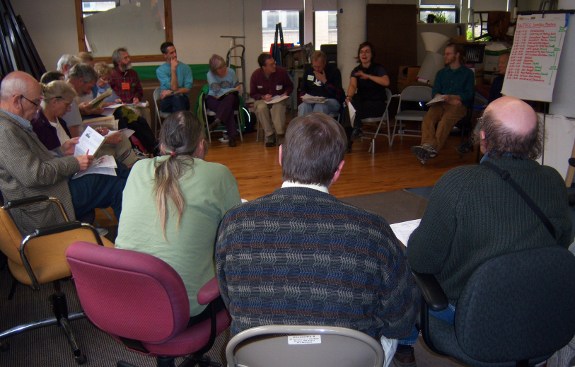 Most of the meeting was uneventful: adjustments to and ratifications of our budget, objectives for the year, and so forth. The big news for me, and for other folks in my area, is that the San Francisco bay area has "been volunteered" to host the next national gathering in .
After the business meeting, we had an informative counselors' training session, featuring Peter Goldberger, a legal advisor for conscientious objectors and war tax resisters, who shared his insights into the legal ins-and-outs of war tax resistance counseling.