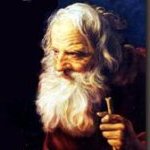 In the fourth section of the tenth book of The Nicomachean Ethics, Aristotle attempts to define pleasure.
First, pleasure is not a movement, or a becoming, or a striving of some sort, but it is a complete thing in and of itself. That is, it is not something like "building," the end of which is the thing being built, but is instead something like "seeing," the end of which is just seeing. It also is not something that progresses over time from start to finish, or from origination to culmination or completion, but instead pleasure is complete in every moment in which it exists.
That said, any pleasure can be qualitatively better or worse than another. The best pleasures are those in which a well-tuned faculty is able to feast upon the best sort of object-matter for that faculty: for example, the sense of smell encountering a forest after a rainstorm. The activity of a faculty being exercised in such ideal conditions is one that is crowned and completed by pleasure.
Why is it, Aristotle wonders, that we cannot just be perpetually in a state of pleasure? "Is it that we grow weary?" He sees two possible reasons:
Pleasure accompanies activity, and people just simply do not have the endurance to keep up any activity perpetually.
Sensation requires some novelty, and any particular stimulus will cease provoking its corresponding mental state if it is repeated too often.
Pleasure seems to be a sign that we are living our lives ideally and thriving to the utmost. "[L]ife is an activity, and each man is active about those things and with those faculties that he loves most," [and] "pleasure completes the activities, and therefore life, which they desire. It is with good reason, then, that they aim at pleasure too, since for every one it completes life, which is desirable. But whether we choose life for the sake of pleasure or pleasure for the sake of life is a question we may dismiss for the present. For they seem to be bound up together and not to admit of separation, since without activity pleasure does not arise, and every activity is completed by the attendant pleasure."
Index to the Nicomachean Ethics series

Aristotle's Nicomachean Ethics

Book Ⅰ

Book Ⅱ

Book Ⅲ

Book Ⅳ

Book Ⅴ

Book Ⅵ

Book Ⅶ