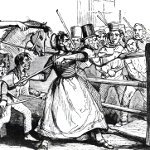 Today I continue in my roughly-chronological arrangement of some of the newspaper coverage of the Rebeccaite campaign in Wales which peaked in . I think this is a particularly fascinating example of organized, mass, grassroots tax resistance, and it is particularly worth a look today because of the strikingly similar bonnets rouges movement in Brittany that conquered the "écotaxe" there by methodically demolishing the highway portals that were to have attached the tax to passing trucks (here's coverage of a recent example).
(The French government has recently decided to abandon the hated "écotaxe"… sort of: it has been replaced by a similar tax in a different form. Instead of truck drivers being taxed by vulnerable portals along the highways, they will instead be required to install GPS units in their trucks, and will be charged a tax whenever they travel on certain highways — excluding almost the whole of Brittany, which remains free, for now.)
This account of the Rebeccaite movement comes from the Monmouthshire Merlin:
Rebecca.

 — Notwithstanding the sudden check given on. to Rebecca and her deluded followers, in their attempt on the Carmarthen workhouse, each day brings its report of some fresh outrage in this or the adjoining county, and it would seem that the daring spirit of resistance to the laws by which these deluded men have hitherto been governed, has received no efficient stop by the proceedings of , nor are they as yet content to submit to the advice of friends or the dictates of reason. No fresh attack has been made either upon the town or workhouse since , and with the exception of the continuance of the excitement necessarily following so daring an outrage, the town is comparatively tranquil and quiet.

, or at least during the , Rebecca and her daughters paid a visit to the two following gates, some distance from Llanbyther, in the county of Carmarthen, viz., Pencader gate, which they soon destroyed, both gate and toll-house. Exulting in their lawless acts, they proceeded from thence to Llanfihangel-Yeroth gate, which, together with the toll-house, was also demolished. The muster on this occasion is said to have been about seventy persons, who soon after the completion of their work dispersed, and retired to their respective homes.

On , another division of the family visited the village of St. Clears; they were disguised and armed, and although the party was on this occasion smaller than usual, they effected their purpose in the destruction of the gate in question, which is opposite the Blue Boar inn, and they then proceeded to another gate called Maeswholand gate, which was also very speedily destroyed. While at St. Clears, an attempt was made by Mr. Powell, of Penycoed, and Mr. Thomas, currier, to apprehend one of the party, but without effect. These gentlemen had the man in safe keeping until his party overtook them, and having beat them violently with the but end of their guns, they were reluctantly compelled to release their prisoners.

On a large mob of Rebeccaites assembled themselves together, and having made their arrangements for their purpose, proceeded en masse to Newcastle Emlyn turnpike-gate, which of course was soon demolished, amid the cheers and firing of this lawless gang. Castell-y-rhingill gate, near Llandilo, has also been destroyed, as well as Llandilorwns gate, and a bar near Llanddarog gate.

A night or two ago, a gate or bar on the road near Pont-y-berem was destroyed, and every morning we have the history of gate destruction from one part of the country or the other, to an extent that must lead the most skeptical to admit at least that this state of things is really alarming. We have had the mayor and magistrates sitting daily — meeting after meeting of county and borough justices, all impressed with the importance of maintaining the laws inviolate, and the necessity of peace being restored to this once loyal and rural district, and that without any wish to refuse to redress fair grievances. It is commonly reported that Rebecca has sent threatening letters to most of the workhouses in this and the adjoining counties, intimating her intention of paying them a visit, razing the workhouse to the ground, and of ejecting the paupers therefrom. This is but a report, the truth of which we cannot vouch for.

On , a report reached the ears of the powers that be, that Rebecca's children had commenced demolishing Glangwilly gate, about a mile and a half from this town. Colonel Love, Major Parlby, and his well-disciplined troop were speedily mounted, and went off at a slashing pace to the supposed scene of destruction, when it happily turned out that there was no real grounds of alarm; but the town became at once seriously excited, and scores of persons about to retire to rest were seen anxiously following the dragoons to the place of supposed danger and mischief. On a company of the 73rd regiment of foot arrived in town, under the command of Major Dawson, and are quartered in the union workhouse.

the town was again excited, it being currently reported that the dragoons were ordered off immediately to another part of the country. On enquiry, we found the troops were under orders, and the fact that Col. Powell, M.P., and Lord Lieutenant of Cardiganshire, had arrived in town , led to the conjecture that they were to be stationed at Newcastle Emlyn, or in the immediate neighbourhood of Cardigan. They left town about , as we are informed for Newcastle. Earl Cawdor arrived by mail, express from London. Colonel Rice Trevor, M.P. for this county, arrived in town some few days since, to act on his noble father's behalf as lord lieutenant of the county. He presided at Newcastle Emlyn, at a large meeting of the magistrates and free-holders, on , which was very fully attended.

A very large meeting of magistrates, county and borough, was again held on , at Carmarthen, but the business was of a private nature, and although we have three reporters from the London press in town they with ourselves were shut out, not being of the privileged class, and publicity perhaps not being required as to the matters under discussion.

The names of the persons committed last week to the Borough Gaol are David Thomas, of Rhydymarchog, in the parish of Newchurch, David Thomas, of Pantwrgwm, Treleach, weaver; Job Evans, of Treleach, labourer; for riot and assault. County-Gaol. — Jonathan Jones, Howell Lewis, Jonathan Lewis, David Evans, David Davies, and John Jones; for riot in the Tallog affair.

On John Harris of Tallog mill, was brought up before a full bench of magistrates, charged with a riot at the Carmarthen workhouse on , and held to bail in the sum of £400. to answer the charge at the next assizes.
Most of the many gate attacks mentioned in this article are not to be found in Henry Tobit Evans's chronology (though some are noted in a Welsh poem he includes as an appendix). This suggests that the attacks were much more widespread than his already impressive account gives credit for.