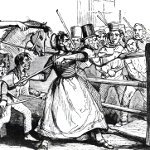 From a column titled "Merthyr Police. — ." in the Monmouthshire Merlin:
Rebeccaitism.

Edward Bagnall, carman, in the employ of the Rhymney Iron Company, was brought before the Bench at the instance of Mr. Superintendent Davies for giving false information to the toll collector at the turnpike gate called the Werfa gate, situate between Hirwain and Pontwally, of the approach of a number of armed men for the purpose of destroying the gate.

It appeared that the alarmist had stopped at the gate, and informed the collector that a large number of the daughters of Rebecca were galloping thither with terrific haste, to smash and level the house and ages. This news reached the ears of the vigilant police before it had spread far, and the lying varlet was taken into custody.

The prisoner informed the Bench that he told the collector "only for a lark."

The Bench said such larks were very reprehensible; and giving the fellow a caution to leave off such practices, he was discharged.
A Merlin editorial, dated compared the Rebeccaite uprising to the Reform Act agitation . Excerpt:
…never was the country in a more open and general state of Agrarian insurrection than it is at present. Armed and disguised parties roam about the country at night, appearing and disappearing with the celerity of Arab robbers, or Spanish guerrillas, harassing and wearing out soldiers, by keeping them constantly on the alert, levelling toll-bars and gates, with a stern end [sic] fixed determination, which betokens their settled plan, and everywhere meeting with the sympathy and hearty co-operation of the bulk of the Agricultural population.
That same issue also included this report:
Rebecca.

Mr. Edward Lloyd Williams, of Gwernant, near Newcastle Emlyn, having recently received a letter from Rebecca, ordering him, under serious injury to his property, to remit 25 per cent. of his approaching rents, has published a very spirited letter, refusing to comply with the unjust demand, and warning the deluded people of the penalty of transportation to which they made themselves liable by being connected with such lawless and unjustifiable proceedings.