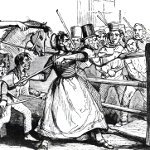 From the Monmouthshire Merlin:
Mr. Bullen, of the firm of Hodges, Bullen, and Co., the extensive toll contractors, has received a letter from this Amazon, informing him that she and her very amiable family, will visit the Witch-tree Bridge gate, situate near Morristown, some miles this side of Swansea, for the purpose of destroying that gate. Mr. Bullen has repaired thither, to put the toll-house in a state of defence.
On a troop of the 4th Light Dragoons marched into town, and remained till , when they proceeded on their route to Llandilo, in Carmarthenshire, where they will be stationed to assist in checking the turbulence of Rebecca's family.