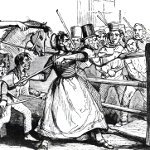 There was some Rebeccaite mopping-up to be done at the Spring Assizes in Carmarthenshire, as was reported in the Pembrokeshire Herald and General Advertiser (excerpts):
The following was the address of his lordship to the grand juries:– … I shall not trouble you with any remarks on the general state of the country, as I have no doubt you have heard much on that subject on more than one occasion previously to this. There is, however, in the calendar, indications of a disturbed state of affairs continuing in this county longer than in the adjoining one. I hope that by the vigilance of the magistracy the peace of the county will soon be permanently restored.…
The Rebecca Riot.

John Lewis, Isaac Charles, Job Evans, John Harries, David Williams, and David Thomas, for unlawfully assembling at the Union Workhouse, at Carmarthen, on , were first put upon their trial, and a special jury was sworn in.

Mr. John Evans, Q.C., Mr. E.V. Williams, and Mr. Chilton, Q.C., were retained on the part of the prosecution, and Mr. Lloyd Hall for the defence.

Mr. Chilton opened the pleadings and stated, that John Harries, a miller, residing at Talog, in the parish of Abernant, in this county, was charged with being the ringleader in this unlawful assemblage. That the said John Harries, had refused to pay Water-street gate, in this town, which caused him to be fined, and his goods were distrained upon for the amount, and that the riot took place in consequence of the distress made by the constables. That the distress caused an ill-will and an angry feeling, and that threats were held out that Water-street gate would be destroyed. That the defendant John Harris had called upon Capt. Davies, of Green Hall, stating that unless the fine would be returned, they would pay him a visit, and handed him a letter to the same effect, signed by John Harris and Thomas Thomas. The parish clerk of Abernant was compelled by Harris to make a proclamation on the previous Sunday, demanding the attendance of all the neighbouring farmers at Carmarthen on the following Monday,— farmers to come on horseback, and their children and servants on foot. His summons was obeyed, and they attended in thousands, carrying with them banners with Welsh inscriptions, and a band of music playing before them. That after parading the town, they arrived at the Union Workhouse, and demanded admission; the governor refused for some time, but seeing the crowd so great, he admitted them in, and the place was immediately filled, and were it not for the timely arrival of a detachment of the 4th Light Dragoons, the work of destruction which they had commenced would be carried on. Several of the horses were left in the Workhouse yard, a number of the men were taken at the time, and that some of them were the prisoners at the bar.

Capt. David Davies.– I am a magistrate of this county. I know defendant Harries — he is a miller, living at Talog mill. He called on me on and delivered this letter to me. I read it in his presence. He said he had another for Mr. Morris for the same purpose, and away he went.

The letter was as follows:– "Talog, .— Sir– As we have been unlegally fined for refusing to pay Water-street gate, no refuse being made, we give you this offer if you are intending to pay the money to-day is the day. John Harries and Thomas Thomas." He said unless paid that day they were coming to demand it on Monday. I was in the town of Carmarthen on the Monday. I was with the magistrates in the Guildhall. I saw a number of persons between twelve and one o'clock coming up towards the Hall from Lammas-street. There were 350 on horseback, and a couple of thousands on foot. There was a band of music on foot. They came up part of the Hall and went up street. They were a quarter of an hour passing. The shops were shut. The crowd did not alarm me. Those on foot were agricultural boys and girls, farm servants. I was not at all alarmed.

David Evans, road-surveyor.— On , I was sworn in as a special constable. I live in this town. On , I was required to assist the police to levy a distress on goods of Harries, the miller, for refusing to pay tolls at Water-street gate. I went with other constables and police constables. The attempt to distrain was resisted, and there was a great riot. Towards the end of it they said they would pay Water-street gate a visit and take it down, and also pay the workhouse a visit and take it down.

Cross-examined.— I did not see either Isaac Charles, or John Lewis. I do not believe they were there. I believe they were not.

James Lewis.– I am the parish clerk of Abernant. I have been so 14 years. I attended Divine service there on . It is the custom after service is over to cry anything that is lost, or give any public notice. I cried a mare that was lost, on that day. I was then desired by John Harries to give notice to parishioners to come to Carmarthen next day; whoever stayed at home would do so at their peril. I did not refuse to cry it, but I told him I had rather not. He said there was no harm in it. After I had made the proclamation, I heard Capt. Evans advise the people not to go. Late in the evening, I heard a conversation between Capt. Evans and John Harries.

Cross-examined.— Isaac Charles and John Lewis were not at my church on that day.

Capt. Lewis Evans was called on.

Thomas Evans, fanner, of Placeparke, and Thomas Davies, of Bwlchnewydd, Newchurch parish, farm servant, confirmed the preceding statements.

John Rae Evans, master of the Carmarthen Workhouse.— On , my attention was attracted to a parcel of people idling and sitting about the hedge outside. Perhaps 100 of them. I had heard rumours that people from the country were to come to the workhouse that day. Most were country; people about an equal number of women and men. The gates were closed. I afterwards saw a large body of people coming up. We are on an elevation, and had a view of them. Those in front were on foot, those behind on horseback. There were hundreds on foot. I saw musical instruments with them. I did not hear any music. They knocked and kicked at the door, and demanded admittance. I was inside and can't say who demanded admittance. Mr. Evans of Placeparke begged me to admit him. He advised me to open the door, otherwise it would be worse for me. I said if they were respectable men I would admit them, but not such a rabble. There was a great noise outside, and the knocking continued. At last I told the porter to open the gate. I was afraid, they were so numerous. The mob rushed in. I retreated to the dining-hall, they followed me. The hall was full; some jumped on the table, others thumped the table with sticks. I attempted to reason with them. They said they wanted all the paupers out. They said there was no further need of my services, nor the workhouse. They demanded the keys of the men's and women's yard. I refused to give them up, and they were wrenched out of my hand. They got into the two yards. I was requested to go to the workhouse, some of the pauper children were crying. The mob wanted them to go out, they were frightened, and did not like to go out. I heard the cry "the soldiers are coming." The room was soon emptied then. One man struck me, it was Job Evans. It was in the school-room. I saw John Harries in the front of the house. I did not see those in front of the house till they had been captured. The back of the board-room was broken open. I knew Isaac Charles perfectly well before this. He came into the hall with the rest. He jumped about, waved his hand, and was active amongst them. He had no stick. They cried "Hurrah!"

[Capt. Evans?] — I am a magistrate for this county. I was in Abernant church on . [?] I was in the church when it was cried, and I went [out to ask?] the crier what it was about. He told me. I [advised them?] not to go. I addressed them in Welsh. I [heard that?] Harris and Thomas had been fined. I sent for them and advised them to meet me at Cilwen that evening. They did not come there. I went out and afterwards met them. I cannot be positive that Harris came, but Thomas did. I went by the Plough and Harrow on my way to Carmarthen. I saw Harris there; It was between 7 and 8. I desired Harris to come to town and get some of the magistrates to come and dissuade the people from coming. I also dissuaded him and asked him not to come, and use his influence with them. Harris said that if I spoke to Mr. Webb, a magistrate very much respected in town and country, and prevailed on him to come out, it might have great effect in preventing them from coming. I met the band before I entered the town, and I told them the people were not coming, so as to persuade them not to come. They said they were paid for coming and they would come. I then came on to town. I went out of town again and met them half a mile from the Plough and Harrow. There was an immense crowd. I did not distinguish Harris then. I endeavoured to dissuade them from coming to town. Mr. J.Ll. Davies did so also. They said that their motive was to go to tell the magistrates their grievances and not to do any harm. A great many did stop with us, but the great body went on. We said idle fellows in town would get them into mischief.

James Morse, Stamp Distributor.— On , I overtook a cavalcade of horsemen and footmen moving down King-street. They came through Guildhall-square, and went towards the workhouse. The foot had entered the workhouse before I got up. I had got ahead of the horsemen. There were from 300 to 500 horsemen, and from 1,500 to 1,800 on foot. I got into the workhouse between two horsemen. I saw the master, he appeared frightened. I spoke to the mob and exhorted them to go home and petition parliament. My address gave them satisfaction, as I touched upon the Educational bill — being dissenters they listened to me, and gave me three cheers. I was interrupted by a man upsetting the iron bedsteads. I spoke to him and he doubled his fists and said "come on." He did not strike me. He desisted from upsetting the beds. I afterwards gave him into custody. I do not know his name. I did not see either Charles or John there.

Eliza Evans— I am the matron of the union workhouse I was at the kitchen door when they came in. A man said he would injure me if I would not give the key of the pantry. He said he would kill me. I refused the keys. Another man held his fist in my face. He said I had locked the children in the pantry. There was a great deal of noise. The house seemed coming down. The bed-clothes were thrown out through the windows. The children were about me crying, and praying the mob not to kill their mistress. They said they would provide a place for them. All of a sudden they all disappeared. I then saw the military. One board up stairs was forced up; it was sound before.

Daniel Levy, John Pugh, Thomas Hughes and others were examined.

The jury, after retiring for a short time, found the whole of the prisoners guilty, and sentence was deferred.

The Talog Rioters.

John Jones, Jonathan Jones, Howell Lewis[,] Jonathan Lewis, David Davies, and David Lewis, were charged with having committed a riot and assault at Tallog, in the parish of Abernant, on .

Mr. Chilton opened the pleadings, and stated that the prisoners were charged with having tumultuously assembled at the village of Tallog, and obstructed the levying of a distress upon the goods of John Harris, for non-payment of tolls at Water-street gate. That the goods distrained upon were rescued by the prisoners, and the constables assaulted by the mob. That Jonathan Jones had a hatchet with him, Jonathan Lewis carried a gun, and David Davies was loud in his abuse.

His lordship having summed up the evidence, the jury acquitted the prisoner John Jones, but Jonathan Jones, Howell Lewis, Jonathan Lewis, David Davies, and David Lewis, were found guilty, and ordered to be in attendance to receive judgment when called for.

The court then commenced the following case:— Thomas Lewis and Thomas Morgan were then indicted on the charge of having destroyed the turnpike gate and toll-house at Dolauhirion, near the town of Llandovery.

The court adjourned.