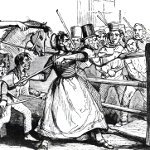 John Hughs, David Jones, and John Hugh, who were convicted of Rebeccaite activity, published the following confession, which reads to me like the work of a lawyer trying to work a clemency angle:
To the public generally, and to our neighbours in particular:

We, John Hughes, David Jones, and John Hugh, now lying in Cardiff gaol, convicted of an attack on Pontardulais turnpike gate, and the police stationed there to protect it, being now sentenced for transportation, beg earnestly to call on others to take warning by our fate, and to stop in their mad course before they fall into our condemnation.

We are guilty, and doomed to suffer, while hundreds have escaped. Let them and every one take care not to be deluded again to attack public or private property, and resist the power of the law, for it will overtake them with vengeance, and bring them down to destruction.

We are only in prison now, but in a week or two shall be banished as rogues, to be slaves to strangers in a strange land. We must go in the prime of life from our dear homes, to live and labour with the worst of villains, looked upon as thieves.

Friends, neighbours, all — but especially young men — keep from night meetings, fear to do wrong, and dread the terrors of the judge.

Think of what we must, and you may, suffer, before you dare to do as we have done.

If you will be peaceable, and live again like honest men, by the blessing of God you may expect to prosper, and we — poor outcast wretches — may have to thank you for the mercy of the Crown — for on no other terms than your good conduct will any pity be shown to us or others, who may fall into our almost hopeless situation.

Signed,
John Hughes,
David Jones,
The mark ✗ of John Hugh.
Cardiff gaol, .
Witness, John B. Woods, Governor.
On , the turnpike trustees of the Swansea road district held their monthly meeting. This was supposed to be the meeting at which they would hold their annual auction of the rights to collect tolls at the district's gates. Here are some excerpts from the account of the meeting from the Monmouthshire Merlin:
At the last letting, those tolls produced the sum of £3,325, at which sum, according to Act of Parliament, they must be again put up [at auction]. Several gates and bars had been either removed or abandoned by the trustees, so it was not probable the tolls would produce so great an amount as they did last year.
Mr. [Thomas] Grove said (with respect to the charges on horses drawing coal) the trustees could not charge less than 1½d for one horse drawing coal. — To Mr. Bullen: What do you charge for two horses?

Mr. Bullen: I have not charged more since I was fined [see ♇ ] than 1½d each horse. I used to charge a shilling.

Mr. James thought Mr. Bullen might legally have charged a shilling for two horses drawing coal, as the toll board did not state that the charge for each horse drawing coal was 1½d, but merely that for one horse drawing, &c., the sum of 1½d was payable, and consequently, if more than one horse was attached to a cart of coal, Mr. Bullen might exercise his discretion, and if he thought proper, the full tolls allowed by the Act of Parliament. He thought Mr. Bullen was right.
After further conversation, the tolls were formally put up by auction, but no offers were made, although Messrs. Bullen and Lewis were present.
The late Rebecca outrages having become the subject of conversation, Mr. M. Phillips said: The expenses incident to this insurrection, will be, to those who took part in it, more expensive than the amount of tolls paid in ten years.