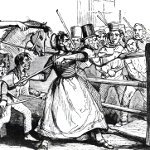 From the Monmouthshire Merlin:
Destruction of Dolehirion Gate, near Llandovery.

This gate was demolished some time since, and subsequently replaced by another; but as Rebecca had given intimation of intention to destroy the second gate, it was considered prudent to have a guard of constables to protect it.

At day-light, on , the constables went home, but scarcely had they left, when the Rebeccaites came and demolished the gate, and were in the act of unroofing the gate house, when the chief constable, who had received information of the outrage, galloped back to the gate, when the Rebeccaites all scampered off. The policemen, however, identified two of them, named Thomas Morgan and Thomas Lewis, who were subsequently apprehended, and committed to take their trial for the offence.
From the Monmouthshire Merlin (Henry Tobit Evans dates the described attack to ):
Rebecca in Breconshire.

We regret to state that the exemption from the prevailing outrages, hitherto enjoyed by this county, exists no longer, an attack having been made last week upon the Cefn Llandewi gate, upon the road leading from Llandovery to Builth, and situate about a mile and a half from the village of Llangamarch. Its destruction was effected by a party of men, who fastened the door of the toll-house, and threatened the gate-keeper with destruction if he ventured out. At a meeting of magistrates held at Brecon on Saturday, it was determined to re-erect the gate, and to send a party of the Brecon borough police to watch it; and accordingly three men went over on Monday, but before they could reach the spot, the Rebeccaites, who, by some means had ascertained that something of the kind would be done, set fire to the house in the absence of the keeper, who of course did not venture to stay on the spot alone after the previous outrage. A large reward has been offered for the apprehension of the guilty parties, and on Wednesday last a meeting of the magistrates was held at the Shire Hall, Brecon, to take the affair into consideration at which Colonel Wood, M.P. for the county, the Lord Lieutenant, the High Sheriff, the Rev. Lord Hereford, and a large body of influential countrymen attended. Resolutions were passed expressive of the regret and disappointment produced by such an outrage after the conciliatory measures voluntarily adopted by the turnpike trustees, and of a determination to use all possible means for the discovery of the offenders; they also requested the support and co-operation of all classes in sustaining the laws and suppression of outrages. The police still remain at Llangamarch, and we understand that a meeting of the inhabitants of that district has been convened for the purpose of recording their abhorrence of such violations of the law. — Silurian.