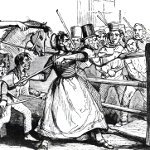 The issue of the Cardiff and Merthyr Guardian summarized part of an an official report on the Rebecca Riots as follows:
The Rev. E. Evans, Vicar of Llangranog and Llandisilio-gogo, is under examination. He holds in his hand a letter, which he says is dated , signed "Becca," and addressed to "the Minister of the National Whore." The purport of the letter is to tell him "that Becca had found a place for his body, and that she, in consequence, desired him to find a place for his soul — that the place for his body was at the end of the National Whore, i.e. the Established Church. She recommends him to read much of the Old Testament, to see whether his conduct is not like that of Pharaoh, and that he had doubled the tasks of the people."
The article in which this excerpt appears is not primarily about the Rebecca phenomenon, but is heatedly fighting Christian sectarian battles of the time. It assumes the letter was written in simple hatred toward the establishment church by a fanatical dissenter, and doesn't inquire any further into other possible motives.
From the Cambrian:
There was no business of importance transacted at these sessions during the last week. After a case of drunkenness and bad conduct had been disposed of, Williams, the man who was required to enter into recognizances to appear before the Bench for crying out "Becca for ever," was discharged on being cautioned not again to commit such a breach of the peace of our sovereign Lady the Queen.…
An editorial from the Monmouthshire Merlin, dated , begins thusly:
Although the Anti-toll-exaction movement still goes on, and is not likely to pause before the last gate considered illegal by the Rebeccaites is levelled, in this and the adjoining counties, still we are happy to write for the satisfaction of our readers, that the spirit which has been evoked seems not to extend beyond the object of a redress of petty oppression, and that the decision of the bench of Magistrates at Swansea, on , and their declared intention of visiting with the full penalties any lessee proved to have unjustly charged upon the traffic of the trust, appear to have, to a great extent, assuaged the acerbity of public feeling against a great agrarian grievance.
From here, the editorialist begins to beat what sounds like a familiar drum, but one that adds little of interest about the Rebecca phenomenon.