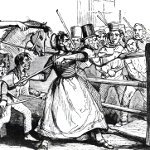 By , we're well in to the "mopping up" point in the Rebecca Riots. The crisis has climaxed, some of the Rebeccaites have been convicted and sentenced, and the Rebecca movement has gained some hard-won reforms in the road toll system.
Here's a brief note from The Cambrian from :
The Rebecca Riots.

From the Bristol Mercury.

A piece of plate purchased by subscription, which it is intended to present to Mr. J.G. Powell, jun., of this city, one of the reporters of London Times, in acknowledgment of his services in exposing and promoting the redress of Welsh grievances during the period of the late Rebecca riots, has just been manufactured by Messrs. Chilcott, of this city. It consists of a handsome silver vase, weighing upwards of 80 ounces. On one side is represented a dragon passant, with wings elevated: the badge of Wales, originally adopted by Henry the Seventh, and settled by royal warrant of George the Third. On the other side is the following inscription:–

To John Gover Powell, one of the faithful and indefatigable reporters of the Times newspaper, of facts connected with the "Rebecca" disturbances in the Principality of Wales, , who, in the discharge of their professional duties, became the patriotic expositors of grievances in which those disturbances originated, this Vase is respectfully presented as a small token of the feelings of grateful Welshmen, and other friends, for an impartial writer, who calmly traced, amidst popular tumult, the existence and source of legitimatised abuses, and, through the powerful medium of our glorious free press, fearlessly disclosed to public view insufferable wrongs, so as to insure from a British legislature the speedy restoration of just rights.
In , Powell had done a couple of months in jail for selling newspapers without tax stamps attached, so he may have had extra reason to be sympathetic with renegade tollgate destroyers.