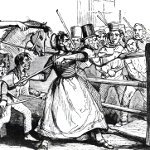 The Monmouthshire Merlin tells of some possible Rebeccaites or Rebecca-impostors who were accused of having gotten a little carried away with their lawlessness.
Sheriff's officer William Frame testified that one night he was staying at a home in Bridgend where he was levying goods when it was broken into by armed men. One "was dressed in woman's apparel [with] a light gown on him, black bonnet, and a cap tied under the chin." They assaulted him and tied him up, and then ransacked the house and stole food, liquor, and bedding.
Alas for the prosecution, "the jury at length returned a verdict of not guilty, immediately on which the crowded court clapped their hands and shouted and cheered tremendously; a large number of respectable parties near the bench loudly expressing their unqualified disbelief of the correctness of the verdict." However:
After the jury had acquitted John Richards, John Phillips, and Isaac James, on an indictment for house breaking and larceny, they were arraigned on an indictment, charging them with riot and assault on the sheriff's officers, arising out of the Rebecca case, at the Bridge End, at Pontypool, on … and having pleaded not guilty, the prosecutor applied to traverse until next sessions, which was granted, and the defendants, each with two sureties, entered into recognizances to appear accordingly.