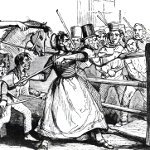 In reading this article it is good to remember that the "magistrates" who held political power in Wales were in many cases the same people who owned the toll concessions that had been cranked up to the boiling point. From the Cambrian:
An adjourned meeting of Magistrates was held at Rhayader on , Sir J.B. Walsh, Bart. in the chair, having for its object, the consideration of the best mode of suppressing the outrages, of bringing the offenders to justice, and of conciliating the aggrieved parties. The Magistrates passed resolutions, stating it to be their opinion that "the late deplorable outrages at Rhayader, prove the existence of a confederacy, systematically organized, for the purpose of resistance to the law, and of obtaining its object by force, violence, and intimidation," and consequently, the magistrates consider the presence of the Military and Metropolitan Police, "absolutely requisite" while such confederacy exists. The same bench of Magistrates afterwards held a Petty Sessions, the chief business of which consisted of a number of turnpike toll cases — parties having passed the toll-house without paying toll, the gates having been destroyed. Fourteen respectable farmers, resident within a few miles of the town, appeared to answer summonses, issued against them at the instance of the contractor for the tolls of the district, Mr. Edward James, for having, on or about , passed the toll-house, which at that time was not demolished, at the foot of the bridge, the gate then being down, some with horses, others with sheep, cattle, &c., without paying the usual tolls. Four were convicted in the sum of 1l. each and costs; one was fined 2l. and costs; and the remainder were discharged.
I also note again the bias of the English-language press in Wales, as demonstrated here by the fact that Baronet J.B. Walsh and toll farmer Edward James were deemed worthy of mention by name, but none of the convicted toll-evaders were.