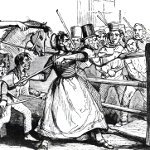 From the Cambrian, comes this account of the classic government gambit of trying to wait out a determined grassroots resistance campaign by offering to set up a committee to study the grievances:
Up to the hour of our going to press, we have heard no fresh attempts at riots since the visit of the mob to the workhouse at Carmarthen ; though we regret to state, that the destruction of gates at night continues unabated. A letter from our Correspondent at Cardigan, posted on , says — "As was anticipated, 'Rebecca and her daughters' paid us a visit ; they were about 150 in number, disguised, armed with guns, swords, scythes, pickaxes, pitchforks, &c. They first of all demolished the gate on the Cardigan Common, built about two years ago, at an expense of nearly 100l.; they afterwards went through the town, firing their guns occasionally towards the Rhydyfuwch gates, the upper one of which they destroyed in about twenty minutes; it took them three quarters of an hour to take down the gate on the Common. On , about 120 of the Royal Marines arrived from Pater in a steamer, about 70 left for Newcastle Emlyn . All is quiet here at present. New Inn gate, twelve miles from here, on the Aberystwith road, was destroyed . One of the Dragoons was drowned in the river Tivy, at Newcastle Emlyn, on , while bathing in company with five others. No doubt all the rioters who took our gates down on , were from the immediate neighbourhood, excepting one or two, who had come from a distance to organize the party."

A rumour had reached Bristol on , by the Phœnix steamer, from Carmarthen, which port she left on , that a collision had taken place in the neighbourhood of Fishguard, between the military and the rioters, and that eight of the former and thirteen of the latter had been killed. From above noticed, and from the proximity of Fishguard to Cardigan, we must conclude that, if the above report had any foundation in truth, it certainly would have reached him at the period he wrote.

A most important meeting of the Magistrates of Carmarthenshire and Cardiganshire was held at the Salutation Inn, at Newcastle Emlyn, on . It was understood also, that delegates from several parishes within the turnpike trust of Newcastle Emlyn, would attend, and large bodies of the farmers and peasantry were congregated in the town. At , the delegates being introduced into the room–

The Hon. Colonel Trevor took the chair. He said, — Gentlemen, I am extremely sorry that on this occasion it becomes by duty to appear before the public in this neighbourhood in my capacity as the civil representative of this county, under a position of affairs of which I have not seen the like for 20 years and upwards. It is with the greatest grief and pain that I have learned that the men of this county have so far forgotten, not only what is due to the majesty of the law, but also what is due to their own characters as peaceable and dutiful subjects, as to commit those acts, of outrage and violence which have taken place lately. I have represented this county for 23 years, and during the whole of which period I have had no reason to complain of the respect with which I have been treated by the whole county, and of its peaceable character before; but now it is with the greatest pain that I am obliged to say that outrages have been committed of a very gross character; and which cannot be suffered to continue. I say this to you, that I may endeavour to induce you not to place yourselves in collision with the law, nor offend against it; if you do so you may escape for a time, but depend upon it the Government will send such a force into the county as will put down these outrages. I am told that you complain of certain grievances, but it is not necessary for me to go into them; for when I say that the magistrates and myself, who have spent the greater part of our lives in the county, are both willing and anxious to redress all grievances, which may be proved to be so, I am sure you will believe us. In order that there may be no mistake respecting this matter, I have written down what the magistrates are willing to do, and will read it to you. Colonel Trevor then read as follows:– "We are willing that every grievance that can be proved to exist, and which can be remedied, should be removed, either in the administration of the funds of the trust, or by the erection of new gates, or by increase of tolls. For that purpose we will name a committee of trustees and tally holders, to go into all the accounts of the trust; and at that committee Mr. Hall shall attend, if he wishes it, on your behalf." We have said that Mr. Hall shall attend (said Colonel Trevor), because he attends here as your advocate, and as far as figures can show he shall be satisfied. The gallant Colonel then resumed the reading of the written document — "If any point of law should arise, counsel's opinion shall be taken, by which the trustees must abide until set aside by the decision of a court of law." This portion has been inserted because you know that the trustees are bound by oath to respect the rights of those who have lent money to the trusts; therefore, in case of any difficult point, counsel's opinion will be taken, by which the trustees will abide until it be set aside by a court of law; and let me tell you, as a friend as well as having the civil power of the county placed in my hands, that the way to redress grievances is not either by outrage or tumult, but by the law. Colonel Trevor then resumed his reading, — "The magistrates have had a force of troops put at their disposal by the Government, and though they are willing to redress all that is amiss, they cannot give way to force, and must put down all disturbances, the Government being ready to increase the number of troops, if necessary." It would give me the greatest pain (said Colonel Trevor) to use those troops against men, to many of whom I am under deep obligations, and in whose houses and cottages I have often received refreshment; for, believe me, I am always proud to go into the houses of my countrymen, and can say, whatever may be their conduct in other respects, their hospitality is proverbial. Let me beg of you, then, my men, not to force me to do what I shall do, however much I regret it, if necessary to the performance of my duty, nor to force me to order those troops to fire on you. Cast away those busy meddlers who have interfered with you, and thus led you astray, for that these are not your own acts I know. But remember, if the law is violated, it must be vindicated — if it is violated, and force be used, remember the troops must resist force by force. If you have grievances, we are ready to redress them; then come with your complaints to the gentlemen who are your neighbours, and you may depend upon their being attended to, but for your own sakes avoid attending nightly meetings, and committing acts of outrage, which will be ruinous to you. Recollect also, that there is a gentleman to whom you have intrusted your complaints, and that he will represent them, no doubt properly, but that he cannot do so if these outrages are continued. As there may be some in the room now who are small tallyholders, I would have them recollect what madness it is in them to at all countenance such outrages, for by destroying the gates you are destroying your own funds, for if the trustees cannot pay the interest you cannot receive it; besides, if you let the roads get out of repair, you will be compelled to repair them yourselves, and have indictments or presentiments laid against you at the quarter sessions, and in addition to being fined perhaps 300l. or 400l.; but if you will only rest quietly for a little while, I understand that the burdens of the extra tolls will be removed, and in saying this you well know that I am not a trustee of this trust, but I have felt it my duty to inquire, and have received some information on the subject; whether it be true or not I cannot say, but I must say that I think your complaints have been greatly exaggerated. If, however, there be real grievances; they will be redressed, but I must again repeat that all outrage must be put down. We, the magistrates, make no bargain with you, but we are willing, as I have said, to inquire into and redress any real grievances; if however these outrages are continued, then we must withdraw from what has been said by us as to the appointment of a committee, &c. The gallant Colonel then requested Mr. Lloyd to explain the paper he had read to them in Welsh.

Mr. Lloyd, of Bronwydd, then explained the written paper to them in Welsh, and addressed them in Welsh, of which the following is a translation. — Friends and neighbours, I regret my inability to speak the Welsh language fluently, but I hope you may understand me. We are come here to benefit the country and to restore peace, after the outrages which have disgraced it. We are come here to hear your grievances and the burdens with which you are oppressed; and if such grievances and burdens shall be satisfactorily proved, we shall be most willing to rectify them, and, if necessary, entirely to remove them. We, therefore propose the formation of a Committee for the purpose of investigating the affairs of the Newcastle trust; and we are also desirous that the hon. gentleman Mr. Hall, who is the advocate of a very considerable district, should always sit on such Committee, so that he may see the accounts of the trust thoroughly investigated and published. My friends, I speak the language of the magistrates present as well as my own when I express the sincere sorrow we feel that this hitherto peaceable county has been the scene of outrages that would disgrace the land of the dessert, and that, in consequence of these outrages, the Government have deemed it necessary to send the military amongst us. My friends, I could hardly credit what I heard; I said, "Surely this is not the work of Welshmen, there must be foreigners amongst the Welsh, urging them on to their ruin." Is this the peaceable county that has done as much, if not more, for the cause of religion than any other county? Is this the mode to redress your grievances? Can you prosper by violating the law? Are you, my friends, inferior in loyalty to your brethren in North Wales? When Hetherington, the Chartist, was sent to Llanidloes he failed to execute his mission in stirring up the people to revolt, for he said the Welsh were too religious a people publicly to violate the laws. There is no grievance that cannot be redressed in a peaceable and constitutional manner. Then, my friends, in the name of God, put a stop to proceedings so scandalous and disgraceful. I am old enough to remember the French invasion, when every man, woman, and child, was up and in arms to resist the ruthless invader, and are you become so degenerate? Will you continue to disgrace the country, and to destroy that character for valour and loyalty handed down to you by your ancestors from Agincourt and Minden to Waterloo? My friends, pause ere it is too late, for be assured the Government is determined to vindicate the laws of the country with the strong arm of the law; and, my friends, as I have had the honour of addressing thousands of you before in your own language, at your religious assemblies, and you have always honoured me with your attention, so I trust and hope you will use all your influence in putting a stop to proceedings which, if persisted in, will ultimately ruin this hitherto happy and peaceable country. In comparison with other countries, we are poor already, and why will you throw away by an infatuation unaccountable the main blessings which you have hitherto possessed? Humble and uninfluential an individual as I am, I shall ever do all in my power to alleviate and remove the burdens which oppress my countrymen.

Mr. E.C.L. Hall said, he would state the conditions on which he attended at this meeting. Certain delegates had called upon him last week, and shown him notices which they had received from Rebecca, commanding them to attend at Carmarthen on ; he had recommended them to abstain from doing so, and had brought those notices to the Magistrates. Seeing the present meeting, composed as it was of all the respectability of the county, he felt that it was an assurance that all real grievances would be redressed. Only let the committee be formed, and the accounts analysed, and he trusted the people would not find him a weak advocate. All they wanted was fair play to every one — to the trustees, to the tallyholders, and to the public. He liked fair play in everything, and he hoped that the country would feel that the meeting this day was the beginning of fair play. They all knew in England that if they began a fight they did it in rounds, and he would consider this round the first, for they must fight one grievance at a time. Mr. Hall then went on to remark, that the people not only complained of the tolls but of the way in which they were treated by the justices. He did not say that injustice was done purposely, but through mistake. They were all liable to mistakes, and, therefore, if they had done wrong let it be set right; and if they had made mistakes, they were honourable men and would set them right. They were to have a committee, but there must be no hurrying of the matter, for, as a barrister, he knew that many points of law would rise and require much time for consideration. As to the outrages committed by Rebecca, they were most scandalous, and if he had had a force the other night he would have endeavoured to put a stop to them. He had borne much blame from the country for having sent to the Government for soldiers. He knew that he had run much risk in doing so, but every man must run risks for his country, and he said that the Magistrates would have been much to blame if they had not sent for the soldiers, as would also the Government if they had not sent them. He had told the people, and he now told them, that the law must be kept. The people were all poor enough, then why would they do a mischief to themselves? Why did they suffer Rebecca to destroy property and thus make them poorer than they were? for whatever they destroyed against law the law would make them pay for, — yes, perhaps some of those who did the wrong. He would advocate a redress of their grievances if they kept the law; but if they broke it he would no longer be their advocate.

Mr. L. Williams congratulated the meeting on what had been done, and upon the moderation of Mr. Hall, the advocate whom the people had chosen to represent them; he was sure there would be no want of zeal on his part; he (Mr. Williams) differed from him however in one or two points, and would state what they were. Mr. Hall had said that mistakes had happened and injustice been done by the Magistrates; this was taking it for granted that all the Magistrates were turnpike trustees; this, however, was not so, neither had it been proved that injustice had been done by the Magistrates, and therefore they should not be charged with it. Then Mr. Hall had said the troops had been sent for by the Magistrates, whereas they were sent by the Government.

Col. Trevor must correct Mr. Williams. As Vice-Lieutenant of the county he had been in constant communication with the Government since the commencement of these matters, and he must say, that he had for one made a requisition to them for troops before he left London, and, indeed, had pressed for them.

Mr. Williams continued:– He was most happy to be corrected in a mistake.

Capt. Evans having addressed the delegates in Welsh, a Committee was appointed.

Mr. L. Morris wished to know if the meeting was to separate without the people knowing whether the tolls were to be reduced; and

Mr. L. Davis suggested that the tallyholders should be written to, and asked to do what all landlords had been obliged to do — to reduce their interest to 3½ per cent., and that the Government should be asked to extend the time of re-payment of the principal lent by them, and take 2½ per cent. of it per annum instead of 5 per cent. per annum, which would double the time allowed for them to pay it in, and then the extra half-toll could be immediately got rid of.

The Committee was then appointed to meet on , and the meeting broke up.

The large assemblage outside were then addressed in Welsh, and informed of the result of the meeting; and on being asked if it had satisfied them, a person in the crowd replied, that it was not satisfactory, and that Rebecca "would go on as usual," and added, that if he were not so young a man, he would have told the gentlemen assembled, that it was not satisfactory, for that they were now "low" ("condescending") enough to listen to the people. It would appear, from the contents of our Cardigan correspondent's letter, above noticed, that this young man's surmise was truly verified, for on the destruction of the gates took place. We trust, however, some means will shortly be devised to put an end to this deplorable state of society.
No wonder the meeting wasn't persuasive. Its message amounted to: "Calm down everybody! I'm sure you're upset about something that seems really important, though from what I've heard about it it seems pretty blown out of proportion. But we're on the case. We're going to form a committee and investigate the things we think are worth investigating, and just so you don't think we're trying to pull one over on you, we've selected someone to represent you in the committee — you might remember him as the one who turned you in to the magistrates and called for the military to be sent in to put you down. In conclusion, you naughty, naughty Welshmen: Don't act like a bunch of Chartists and foreigners, and don't make us send the army in to shoot you down like dogs — if you don't pipe down we'll just pack up our committee and go home! So just go back to your little huts and stay quiet and we'll take care of everything for you in the way the grandeur of the law allows."
The Monmouthshire Merlin also had a brief note about Rebecca in its issue:
The good folks of Llanelly nightly anticipate a visit from this lawless lady and her followers. Two letters from some members of the sisterhood have been received by parties in that town, in which these fair damsels state pretty plainly, that they have determined to level all the obnoxious gates in the neighbourhood.