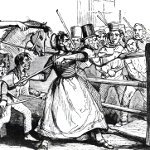 The trials of accused Rebeccaites continue. From the Monmouthshire Merlin:
Carmarthen, .

The Workhouse Riot, &c.

On , an information was laid before David Danes, Esq., one of the borough magistrates, by Henry Evans, one of the rural police, against Jonathan Jones, of Brynbach, in the parish of Abernant, in this county, charging him with having, on , unlawfully, riotously, and tumultuously assembled, with divers other evil-disposed persons, at the Carmarthen workhouse, in the county of the borough of Carmarthen, and then and there created a riot and disturbance, by which said riot and disturbance divers of her Majesty's liege subjects were put in bodily fear.

On this information a warrant was issued, and entrusted to Howell, another of the rural police, who captured the prisoner at his residence, at an early hour on , and afterwards placed him for safe custody in the hands of Woozley, the station-house keeper, by whom he was brought before William Morris, Esq., mayor, and Dr. Stacey, at .

The prisoner, Jonathan Jones, is a young man, and the individual who assumed the character of Rebecca, at the great procession of Rebeccaites through the streets of this town, on , when the mob broke into the workhouse, where their designs were fortunately interrupted by the arrival of the dragoons, under the command of Major Parlby, and at which time the ringleaders in this riot contrived to escape.

At his examination at the guildhall, , the informant, Henry Evans, was re-sworn to the information he had previously made, in the presence of the prisoner, and which information was read over and explained to him in Welsh. Subsequently, on the application of the prosecutor, who said there would be further evidence to be adduced as to the charge, the prisoner was remanded for further examination, to .

On , John Evans, of Abergwilly, in this county, carpenter, was committed by Daniel Prytherch and John Lloyd Price, Esqrs., to take his trial at the forthcoming winter assizes, charged on the oaths of David William Joshua and others, with having on riotously and tumultuously assembled with other evil disposed persons, at Glangwilly gate, near Carmarthen, and then and there demolished, pulled down, and destroyed the gate and toll-house, occupied by the said David William Joshua. The prisoner offered bail for his appearance, but it was refused.

John Thomas, of Velincwm, smith, was charged with having, on , created a riot and disturbance with other persons at Llandilo-rwnws gate, in the parish of Llanarthney, in the county of Carmarthen. Remanded to .

David Jones, was taken into custody at the county gaol, soon after the remand in the above case, charged with having, enticed one Daniel Lloyd, to commit willful and corrupt perjury in a prosecution against John Thomas, smith, for a riot and assault. This case also stands over to for further enquiry.