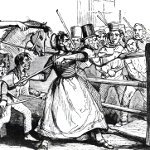 From the Cambrian:
The Rebeccaites are determined to have their revenge and not to show themselves over awed, or their nocturnal sports stopped, by the late occurrence at Pontardulais, for on a great number of them assembled and carried away the Pontardulais gate, at which the police had fired on them a few nights before.
From the Cambrian:
, at a late hour intimation was given to the Mayor of Haverfordwest that the Rebeccaites had assembled at Windyhill, and were preparing to attack the Prendergast Turnpike Gate and Toll House. No time was lost by the Mayor, who in company with his brother Magistrates, the Military, and the civil forces under his command, repaired thither. After waiting there some long and watchful hours, however, they found that the intimation of Rebecca's intended visit was a hoax.
I see a few reports from around this time where the Rebeccaites use this tactic of sending the authorities on wild goose chases. The same issue carries a report saying that on the same night, a troop of Marines and another troop of Dragoons dashed off to prevent Rebecca from "destroying Capt. Prichard of Tyllwyd's house and property." Rebecca never showed there, and the reporter supposes this was a diversion meant to provide cover for the Rebeccaite destruction of the Llecrhyd weir. Infringements on the commons, whether in fields or fisheries or what have you, were among the secondary grievances that Rebecca and her Daughters sometimes took to remedy. That story adds:
Several large meetings are weekly kept with the Rebeccaites on the mountains, to what purpose God only knows. Some say they want to be strong enough so as to attack the soldiers at Newcastle Workhouse, and to destroy some other property. As soon as the Marines went off last night, an old man who is in the Workhouse commenced to break the windows from inside, and before he could be secured he destroyed 42 panes of glass, and said he would draw the house down if he could. Here is Rebecca's spirit inside as well as outside.
Another story (from the same issue) on the destruction of the weir has this amusing ending:
We understand that a rear guard of the Marines, on their return from Velingigfran [a different weir they had been sent to guard] fell in with the Rebeccaites, 2 of them were in advance, and the 3rd was a little behind, Becca asked him if he had a musket? Yes! (replied the Marine.) Is it loaded? Yes! Is it capped? Yes! Take off the cap then and come with us. He was then taken to a public house in the neighbourhood, and treated with several glasses of ale, and then discharged. He arrived in Cardigan two hours after his comrades.
As Rebecca started getting bolder and taking on a greater variety of battles, it started to become easier to impersonate her, as it were, for personal grievances or personal gain. Here are two stories from that same Welshman that show this danger:
Rebeccaism at Cardigan.

About five years ago, a number of young men and women returning from a wedding near Cardigan, chanced to meet two venerable ladies, whom the silken bonds of hymen had never entwined — they were within one day of 30 years each, unmarried ladies never grow older. One of the young lads said he would give Miss W–– a kiss; on which another of his party said he would give him half a crown if he would. "Done" said the lad. The ladies advanced, and Davy ran up to one of them, threw his arms round her neck and attempted the tender infliction. It was however most resolutely resisted; Davy however won his half crown but got fined a sovereign for the assault. The story was not forgotten, for last week these maiden ladies were visited by a large party of young Rebeccaites, one of whom tapped at the lady's chamber window and told her "Rebecca had called for the sovereign paid by Davy for a kiss some years before, and she had better pay it or else." Wisdom grows with years, and the maiden was wise. She quietly told the party "to call again to-morrow," and they should have the money. The Rebeccaites being young believed it, and walked away. Many of them no doubt by this time, very much "wish they may get it."

Sham 'Beccaites.

On , John Francis and John Jones, two sturdy beggars (the latter of whom having a maimed arm) were brought up before the sitting magistrates, John Evans, Esq. (Mayor), and Capt. W. Powell, under the following circumstances:– Mr. Lewis Jones, merchant, stated that the two prisoners a few days before came to his shop to beg — the latter showing him the stump of his arm. Having given them some halfpence, Mr. L. Jones, in scanning them a little more narrowly, saw they were in drink, and charged them with it. They did not deny the charge, but said that they had received 5s. from Mr. Crawshay, the great Merthyr iron master, then at Aberystwith, and they had been drinking rather too freely at his expense, and knowing that Mr. Crawshay was not at Aberystwith, Mr. Jones immediately found they were impostors, and gave information which led to their apprehension, by police constable Jones. The principal other witness against the prisoners was Mrs. Jones, of Penybwlch, a farm a few miles south of Aberystwith. The prisoners a few days before had called at the farm house, and pretended they had been maimed by being blown up in a coal pit — the prisoner Francis baring his breast to show the sores that arose from the pretended accident. Mrs. Jones offered them some food, which they positively refused — they would have money, and nothing else. They talked about "Rebecca," and said there were 16 of them, but they had been advised by the Rev. Mr. Lewis, of Llanrhystyd, not to go all in a body to the different farm houses, lest they might be taken for Rebecca's children. This witness found very great difficulty to get rid of the prisoners, and not before they saw her husband was in the house.… The magistrates commented with becoming severity upon the conduct of the prisoners going about pretending to be 16 in number in the present unsettled state of the country, and sentenced Francis to 3 months' imprisonment with hard labour, and Jones to 2 months with hard labour.