Today, an international tax resistance news round-up:
Hong Kong
The "Occupy Central" movement, which has been pushing for political liberalization in Hong Kong, is exploring the tactic of tax resistance. Inspired by American war tax protester Evan Reeves, who paid his taxes in protest by writing 5,574 checks, each with a name of a fallen U.S. soldier written in the memo field, Raymond Kwong launched a similar protest against the Hong Kong government.
On , Kwong sent off the last of his 9,280 checks. He used rubber-stamps, some hand-carved, to fill out each check, and hand-signed each one. He says he felt like something out of the Charlie Chaplin film Modern Times while going through all the motions of stamping and signing each check, a process that took about 54 hours. Between the cost of the checks, the postage, the stamps & ink, he also says he had to spend about HK$500 above and beyond the amount of the tax.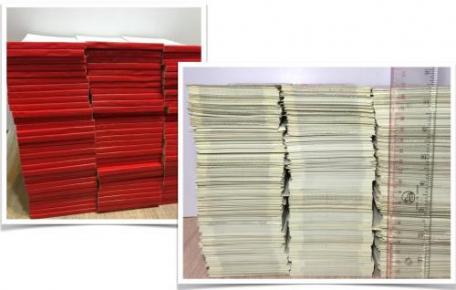 The number of checks — 9,280 — is meant to commemorate the launch of Occupy Central's "umbrella revolution" campaign.
The U.K.
The New Statesman looks back on the life of women's suffrage activist Sophia Duleep Singh:
She was one of the early tax resisters, refusing to pay for licences for her dogs and carriage. She ignored all letters demanding payment until she was issued with a fine. Instead, she equipped her lawyer with a disquisition on female suffrage and the injustice of taxation without representation and sent him to court to read it to the judge. Eventually bailiffs turned up at her house and seized a seven-stone diamond ring, worth far more than she owed. But the suffragettes won the war: when the ring came up at auction, they flooded the auction house and refused to bid for it until the auctioneer was forced to lower the starting bid to £10 — at which price it was bought by a suffragette and returned to Sophia, amid rapturous applause.
Greece
Members of the "Won't Pay" movement stormed the Nea Ionia County Court to successfully prevent a foreclosure auction.
Costa Rica
Al Jazeera America looks at the Monteverde Community in Costa Rica, which was founded by Quaker conscientious objectors and war tax resisters in .