It may sound like a long shot, but have you considered trying to make friends with the tax collector? It's a strategy that's so crazy it just might work!
Here are some examples of where tax resisters or their allies have tried it:
The Peacemakers were eventually successful in winning back war tax resisters Ernest and Marion Bromley's home, which had been seized for back taxes. In a retrospective, they claimed:

The Peacemakers were resolute that their confrontation with the government would be on their terms. Believing that the legal system is an instrument of oppression and exists to protect the state and the property of the powerful, they refused to take their case into the courts. Instead they worked to make the truth known through personal meetings with IRS officials, through continuous leafletting, through appealing to their supporters country-wide to demand justice.… They put enormous energy into building relationships with IRS officials that would allow for honest dialogue. And always, they challenged and responded to the bureaucracy in a highly personal manner.

Initially it appeared that IRS' reversal had been an act of faith in the Peacemakers; that it had been touched by the group's philosophy of truth and their consistent methods. It wasn't that complete a victory. The Commissioner had been sufficiently impressed by these people to where he called for a special investigation — which verified the Peacemakers' statement.

Dorothy Day wrote of this:

Chuck Matthei had told me the story of his interviews with the head of the Internal Revenue Service, the almost daily dialogue that went on between them, and the frank and "manly" admission, made finally by the IRS chief, that a mistake had been made, that the Peacemakers had Truth on their side. I felt a great sense of joy and thanksgiving, a sense of hope too, that our officials in Washington D.C. could be approached in this way — with dignity and perseverance, with courtesy, with the recognition that we are all, each one of us, whether government official or radical (one who gets to the roots of things), children of God. We do believe that we are all brothers and sisters. We believe, too, that we can only show our love for God by our love for our brothers and sisters. So we share our joy with you, our readers, and hope we all have a sense of renewed strength and energy to continue our opposition to all violence, to all wars.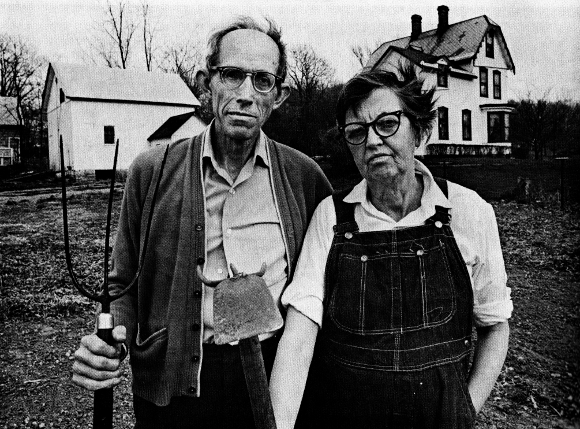 Quaker Thomas Watson was seized by the American army during the revolution, and condemned "to be stripped and ironed, and on the next afternoon to be publicly hanged" for refusing to take the continental currency that Congress was using to finance the war, his family was given little hope for him. "You may go home," one petitioner was told, "and rest assured your uncle will be hanged."

But the wife of the prisoner had a warm friend in the landlady of the inn at Newtown; and when was woman's kindness ever invoked for the relief of suffering, or woman's tact required in vain? She was advised not to apply in person for the release of her husband. The landlady had learned Lord Sterling's fondness for the creaturely comforts of life; and knew that wine had the effect to soften the severity of his temper. To take advantage of this disposition, she invited him to a sumptuous dinner. He did full justice to the delicacies of the table, and willingly partook of the generous old wine, which had been reserved for special occasions. As the wine warmed the General's good-nature and disposed him to kindlier feelings, she cautiously introduced the case of the condemned; pitied his condition, cold, and in irons; regarded his treatment as needlessly severe; and at length requested that his fetters might be removed and his clothes restored to him. He could not resist this appeal of his hostess; and a note was sent to the guard in answer to her request.

The good woman continued her entreaties, and still plied the wine; when, at the proper moment, the wife was introduced. She fell on her knees before him, burst into a flood of tears, and told him who she was, and, with all the earnestness, feeling, and eloquence of a loving wife pleading for the one she loved best on earth, begged him to spare her husband's life. Her entreaties were of a nature hard to be withstood. He remained some time silent; then, raising her to her feet, he said, "Madam, you have conquered. I must relent at the tears and supplications of so noble and so good a woman as you. Your husband is saved." He immediately wrote a pardon for the prisoner, and ordered his discharge. The happy pair now returned to their homes rejoicing.

Such friendly meetings do not always end well. Quaker Henry Paxson found this out when he was visited by the tax collector some 300 years ago:

Paxson kindly treats [the tax collector] with best he had, and when he had filled his wem, and drank plentifully of good cider, he distrains the plates he had eaten on, and the tankard he so freely toped out of, but the wife begged the tankard, and bid him take something in lieu of it.

In , a delegation of Quakers met with the sheriff, his sub-lieutenants, a judge, magistrates, and a tax collector in their area of Pennsylvania. They reported:

[We] had opportunity of laying before them the reasons and grounds of our refusal to comply with several requisitions, made for the support of, or that have near connection with, war; and to open our principles, and the consistency thereof with the doctrines of the Gospel, as set forth in the New Testament and pointed out by the prophets, and the inconsistency of Christians oppressing one another for conscience sake.

They generally appeared friendly, and to receive our visit kindly, some of them particularly so; and most of them acknowledged that the prophecies concerning the disuse of carnal weapons, pointed to the Gospel dispensation, and was much to be desired.

We had good satisfaction in the performance of this service, believing truth owned it, and that there is encouragement for Friends to use further endeavors of this kind.

The Rebecca Rioters could be cruel, or even deadly, to the keepers of the toll gates they were destroying. More frequently, they would allow the keepers a few moments to collect their personal belongings and remove them from the building before they demolished it. And on some occasions, the encounters were almost cordial:

The gate-keeper begged of them not to destroy the furniture, as it was his own; and his wife and child were in bed, but they might do as they liked with the gate and toll-house. Rebecca went to the door, and ordered her [Rebecca's] daughters not to touch anything but the gate and the roof of the toll-house, and not to break the ceiling for fear the rain would harm the woman and child in bed. In their hurry, however, to unroof the house, one of them slipped between the rafters, and his foot got through the ceiling. Rebecca expressed her sorrow at the accident, as it might cause inconvenience to the gate-keeper.

They behaved remarkably well to the gate-keeper, and frequently desired him and his wife not to be alarmed, as they would not injure them in the least; but at parting Rebecca desired him not to exact tolls at that gate any more.

There was no more persistent foe of the IRS than Vivien Kellems, but:

Miss Kellems stresses that she holds no animosity toward the officials who enforce the tax laws. When IRS Commissioner Johnnie M. Walker took office earlier she sent him a note outlining their differences but congratulating him on his appointment. "He sent back a nice thank you note," she said.

During the tax resistance campaign for women's suffrage in Britain, good relationships between the resisters and the auctioneers who were enlisted to sell off their goods for taxes allowed them to better use these auctions as rally and propaganda opportunities. On one occasion:

…the auctioneer opened the proceedings by declaring himself a convinced Suffragist, which attitude of mind he attributed largely to a constant contact with women householders in his capacity as tax collector.

When Kate Raleigh's property was seized by the tax collector:

Miss Raleigh naturally made use of the occasion for propaganda purposes, conversing with the tax collector for some time on the subject of Woman Suffrage, and presenting him with Suffrage literature, which he accepted. Before taking his leave he expressed himself as, on the whole, in favour of women's claims to enfranchisement.

The movement against Thatcher's Poll Tax initially tried to reach out to the councils who were responsible for setting the budgets that implemented the tax, and to the labor union representing the tax collectors who would be enforcing it, to ask them not to cooperate. However, this met with very little success.
War tax resister Robin Harper met with a tax auditor and a "frivolous tax coordinator" at an IRS office in . He described how it went:

I quickly assured them that an accurate accounting should of course be established, but that in no way could I alter my refusal to deliver my tax dollars into the U.S. military machine. Earlier I had described how my Conscientious Objection was rooted in our Quaker Peace Testimony and how I had performed two years of civilian alternative service with a self-help housing project during the Korean War.

With his defensive posture evaporating, Mr. Means [the "frivolous tax coordinator"] told us that his father fought in the Korean War and came home tormented by post traumatic stress disorder. Thereafter he would have nothing more to do with guns, "because he had seen what guns can do." That gave my supporter, who had lived through World War Two in Germany, an opening. Drawing a parallel with my war tax refusal, she pointed out how German income taxes funded the governmental atrocities of the Third Reich.

…

At one point, when I was describing how the International Center has been installing solar water purification units in Central American villages, Mr. Means broadened our discussion, noting that the scarcity of safe water is becoming a global problem. In my followup letter to our interview, I sent him a copy of an eye-opening article from the Resist newsletter discussing this issue in depth.

Near the end I took the opportunity to unfurl the large chart which chronicles my war tax redirection these past forty-one years and to describe how I was first propelled into war tax protest by U.S. nuclear atmospheric bomb testing in Nevada and the Pacific.

After more than three hours (and well past normal lunchtime), the two finally closed the interview with smiles and friendly handshakes. Mr. Means even admitted that his title of "Frivolous Tax Coordinator" was really a substitute for "Tax Protester Coordinator," an internal administrative category which Congress had abolished in recent Taxpayer Bill of Rights legislation.

Despite their training to be suspicious (all taxpayers are trying to get away with something), IRS folk, like all human beings, can be positively affected by openness, honesty and sincerity. Transparency can often trump suspicion.

I have learned how we all hunger for caring, person-to-person exchanges. Look how a one hour audit stretched into more than three hours, much of which involved genuine sharing far beyond the scope of the audit!

As our discussion rose above tax details, Mr. Means, the tax protester "sheriff," was led to cast aside some of his official person and let his personal feelings and thoughts come through. He also became increasingly interested in discerning what makes war tax refusers tick. I am sure he came to understand that our witness is anything but "frivolous."