I dug up some additional newspaper mentions of Ammon Hennacy's work. This one comes from the Gazette and Daily of York, Pennsylvania:
A-Bomb Is Viewed As 'One Great Sin'

Ammon Hennacy, associate editor of Catholic Worker, tells Lancaster meeting atomic bomb is 'the one great sin' , says he won't pay taxes to support warlike governments.

The atomic bomb last night was described as "the one great sin" by Ammon Hennacy, associate editor of the Catholic Worker.

Hennacy, an anarchist, pacifist, vegetarian, and Catholic, spoke on "Why As a Christian I Refuse to Pay Taxes" at a meeting at the Evangelical and Reformed seminary in Lancaster sponsored by the Fellowship of Reconciliation.

Hennacy said one has to have been in jail to have been a radical. He has been in jail many times.

His first experiences in prison were during World War Ⅰ when he refused to register for the draft. It was there that he was put in solitary confinement (at the time he was a Socialist and atheist) with only the Bible to read.

It was in the Atlanta prison that he became a convinced pacifist. Later he became a Catholic "out of steady osmosis with Dorothy Day," managing editor of the Catholic Worker and outspoken pacifist.

Hennacy said he refuses to pay taxes or vote because they are used to support governments which as a whole are warlike.

People who support the government by paying taxes, he said, are guilty of the atomic bomb

Pickets Revenuers

Last week Hennacy picketed the bureau of internal revenue office to protest the payment of taxes. He said he writes the "tax man" and tells him how much money he has made and how much he owes and that he is not going to pay. He has not been imprisoned yet for refusal to pay.

Dorothy Day does not pay taxes, either, he said, but she doesn't even bother sending in a tax form stating her earnings.

Beginning he plans to fast for 11 days as penance for his country's having dropped the atomic bomb on Japan. It was that the bombing took place, so he will fast one day for each year since then.

Hennacy was a social worker in Milwaukee for 11 years until . He quit his job then because he refused to register for the draft and thought he would get a five year prison sentence.

But he had been jailed during World War Ⅰ and was not bothered.

It was near that time that income taxes were first withheld from salaries. In order that he would have nothing withheld, Hennacy did yard and farm work in the Southwest.

"Tax men," Hennacy said, have no malice but are just stupid.

He said they stole Daily Worker property and tore things up. His own paper also pays no taxes and the "tax men" could do the same thing, but "we won't give them a list of contributors who help us make up the deficit."

The hierarchy of the Catholic church has not tried to do anything about the radicalism of those associated with the Catholic Worker because they live "in voluntary poverty like Gandhi did," according to Hennacy.

They have incurred the wrath of the "Cadillac Catholics," and a monsignor who had petitions signed for McCarthy had Hennacy arrested for selling the Catholic Worker on New York streets, he said.

The Catholic Worker's circulation now is 65,000, he said. Before the paper opposed Franco's government in Spain it was 170,000, he said.

As the ethical background for his beliefs and actions, Hennacy cited the Sermon on the Mount, Jesus' teachings to "turn the other cheek" and to "love your enemy."
An Associated Press wire photo from :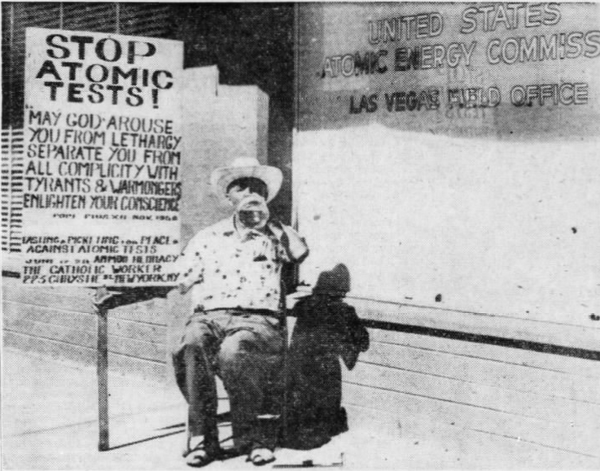 In the version of Don Dedera's "Coffee Break" column in the Arizona Republic, was this note:
A few weeks ago Colleague Bud DeWald was hurrying down bustling Lexington Avenue in frantic New York City when he spied Anarchist Ammon Hennacy, Phoenix's One-Man Revolution, placidly picketing the Internal Revenue Service.

"I refuse to pay income tax," the Hennacy placard read.

"I have just about conquered New York," Ammon told Bud. "Next fall I am going to Salt Lake City and go to work on the Mormons."
Dedera was back, in the issue, to report that Hennacy wasn't kidding:
Mormons, Don't Say We Didn't Warn You

Phoenix's One-Man Revolution, flushed with its conquest of America's largest town, soon will lay siege to Salt Lake City.

Ammon Hennacy means to save the Mormons.

Since the Church of Jesus Christ of Latter-day Saints has never experienced a Hennacy siege, a public warning may be in order. The struggle should start on even terms.

Opponents are forever granting Hennacy the weapons of surprise and secrecy, by no wish of his own.

For example, the other day when he returned to rest and visit friends in Phoenix, his first act was to contact the Phoenix FBI office and announce:

This is Ammon Hennacy, a subversive. I am a Christian Anarchist, and I don't believe in any government at all. I am against war and the bomb, and I never pay income taxes. I'm going to give you my address and schedule, in case you want to watch me.

Indeed, the FBI likely has a fat dossier on Hennacy. He served time for dodging the World War Ⅰ draft. Although he now damns communism as moral and economic fraud, he was a card-carrying member for years.

It was as a picketer of the Phoenix Internal Revenue office that Hennacy earned the nickname, One-Man Revolution. He worked on farms which deducted no taxes. At tax time, he would fill out a form, taking care to change the wording, "U.S. non-Taxpayer."

Across the bottom he would write:

"This is how much I made last year. This is how much tax I owe. Come and get it."

He said he never had to pay taxes. Once in New York City a pair of T-men interviewed him and warned, "We have to make our report, and you'll probably be charged within six months." Hennacy said he didn't hear from them again.

Hennacy also has fasted 40 days in front of the Atomic Energy Commission. Every April 28 he appears in New York City to disobey the Civil Defense drills. Usually he is arrested.

"Every year the state makes New York crawl underground for eight minutes," he said. "There is no safety in the subways. A New Yorker can do nothing in an atomic war but pray."

At 78, Hennacy is rosy and unwrinkled. His hair is gray, thick and shiny. But he has mellowed from the day when he would bait a banker for breakfast.

"I shall make my mission into the land of the Mormons because no one has worked with them, and I find them an admirable people. They are hard-working, responsible — people of integrity.

"My only hope is to out-Mormon the Mormons. I will open a Joe Hill house, named for the IWW martyr, and feed the bums and maybe put out a newspaper.

"I hear the Mormons work in the fields for their charities. I'll work with them. They fast once a month; I'll fast every week. I don't drink or smoke, but I'll have to give up coffee and tea. I'll go to Mass every day, and as a demonstration, I'll give 10 per cent of my income to my own church, which I call the Bingo Catholic Church."

Salt Lake. Man the walls.
Erne Linford of The Salt Lake Tribune was on the scene when Hennacy arrived (from the issue):
Hennacy's Coming

Salt Lake City was quietly minding its own business last week when Ammon Hennacy blew into town.

You may have lived such a sheltered life that you don't know about this one-man revolution, but you likely will soon know him by reputation, if not personally.

Of all the places on the globe, Mr. Hennacy has decided to make Utah his future home. He is aware that peace officers and some residents will not consider this a blessing.

Ammon, gray-haired and wiry at 65, is a self-proclaimed "Christian Anarchist."

He doesn't believe in any government. He is against war and the bomb. He never pays income taxes (and claims he gets away with it, Brack [J. Bracken Lee, Utah governor, who had his own tax resistance crusade]). Though he once carried a Communist Party card, he now damns communism as a fraud.

Hennacy pickets institutions and projects he objects to. In fact he cut short his Salt Lake visit last week to hurry to New York for his annual refusal to comply with the civil defense bomb shelter regulations there. He expects to go to jail for refusing to retreat to the subway when the sirens wail. But having been to jail many times, he considers it a mere nuisance, no deterrent.

In questioning the genial libertarian we deliberately used such terms as "publicity-seeker," "professional troublemaker," and "police-baiter," but Ammon's clear eyes never flickered.

"I've been called most everything," he explains. "But at 65 I've outgrown being affected by headlines. I just work for what I believe in — or against what I don't believe in. I'll never stop till I die."

Hennacy plans to open in Salt Lake City a Joe Hill House, named for the Utah IWW martyr, to feed and bed transients. He may even put out a paper. For funds he will do day labor on nearby farms. (He works only on a daily basis, in order to avoid having taxes deducted).

Well, don't say you weren't warned about Hennacy's imminent invasion of Utah.
Hennacy returned to Arizona for a visit later that year, and was interviewed by a reporter for Flagstaff's Arizona Daily Sun ():
One-Man Revolution

The "one-man revolution," Ammon Hennacy, 68, visited Flagstaff this week.

He has spent a lifetime espousing the doctrine that the only way the world can be improved is for the individual to improve himself.

"One person on the side of God is a majority," he says with an Irish grin.

Hennacy calls himself a Christian anarchist. He says he is so far left politically that he makes "the right-wingers of the Republican party look like communists." He adds that if people would behave themselves, there would be no necessity for any government. He has no use for any political group. He believes, literally, and in every aspect of life, in the Golden Rule.

"The political parties are all going at this thing backwards," he says. "You have to start with the individual."

His aim is to live as closely as he can by the teachings of Christ as exemplified and codified in the Sermon on the Mount. He believes in turning the other cheek, in going the second mile. He works at it.

"Possessions are trash," he says. "If you want to be really free, don't own anything. Things you think you own actually own you." Hennacy carries his few belongings in a small suitcase — some articles of clothing, pictures of his two daughters, a Bible and a couple of other religious books, and a memo book. "If I lost the whole business it wouldn't hurt me any," he says.

Hennacy has staunch friends in many unexpected places. Among these are Frank Brophy of Phoenix, banker and philanthropist, who by no stretch of the imagination could be considered a radical.

Hennacy doesn't believe in taxes, hence doesn't pay any. Years when his income necessitates the filing of a tax return, he files it. But he never pays the tax bill. He is cheerfully ready at any time to go to jail for his beliefs, and has done so many times.

Hennacy is a slight, wiry Irishman whose eyes twinkle with humor and love. He loves everybody including the wardens he has met in what he calls "a professional capacity." He has been arrested more than 30 times and served sentences many times. He served eight months in solitary confinement in Atlanta Federal penitentiary more than 40 years ago. He had nothing to read but the Bible. He read it six times. When he came out, he says, he had not only retained his sanity by reading, but had become a Christian, and he has been working hard at it ever since.

Among his friends are U.S. agents who have tried in vain to make him pay his taxes.

Hennacy is on the way to Salt Lake City where he will work as a farm laborer. He can always find a job because he doesn't argue over wage scales or fringe benefits, and works harder than anybody else; but he insists on being paid in cash each day, without deductions for taxes.

His aim is to establish a mission in due time, "without preaching." He is a member of the Catholic church.

He says he has no idea of converting the Mormons to his beliefs. "They are good people, who live the Christian life as they see it," he says. "I enjoy being with them. To them, religion is not something to be saved for Sunday."

"If the Mormons want my ideas, they'll get them, but I do not expect to make many converts, in Utah or anywhere else. Living by the Golden Rule is pretty strong fare for most people."

He is frequently asked if he expects to change the world.

"No," he smiles, "and the world isn't going to change me, either."

When you look at his stubborn chin and smiling blue eyes, you can believe it.
Hennacy was back at the Atomic Energy Commission headquarters for a picket , as seen in this Associated Press article, as found in the Albuquerque Journal of :
Pickets Protest Nuclear Tests At Nevada Site

Las Vegas, Nev. (AP) — Nuclear explosions at the Nevada test site 65 miles northwest of Las Vegas were protested by two pickets.

Ammon Hennacy, 68, and Mrs. Carol Gorgen, 40, carried signs, which stated:

"Easter Message — Peace Not Scare War."

"Every Test Kills."

"Thou Shalt Not Kill."

The two picketed the Atomic Energy Commission headquarters in what Hennacy said was a one-day stand.

Hennacy, who said his life has been marked by jail terms because of various crusades, said he also has picketed air raid drills, income tax, and capital punishment.

Hennacy said he was a mission operator in Salt Lake City. Mrs. Gorgen said she was a housewife from San Francisco.

Both said they opposed income tax because it supports "war efforts."
Here's one way Hennacy tried to get his message across while in Salt Lake City (from the Salt Lake Tribune):
Lectures Tonight

"Thoreau's Message for Today," will be the subject of a lecture by Ammon Hennacy at the Joseph Hill House of Hospitality and St. Joseph's Refuge, 72 Post Office Pl. (340 South),
The Daily Independent Journal of San Rafael, California, published this note in its issue:
Bruce Sloan of Kentfield informs us he has just had a visit from Ammon Hennacy, a Catholic anarchist, of Salt Lake City. Asked what that is, Sloan said, he's a Catholic and he's an anarchist. Hennacy runs the Joe Hill House of Hospitality and St. Joseph's Refuge, where he gives free meals and beds down sober transients. He was in Marin to look for a Dominican priest and confer with people who are tax refusers.
United Press International sent this dispatch out over its wires in :
Man Pickets To Protest War Tactics

Salt Lake City (UPI) — For one hour each day, , a grey-haired man, looking younger than his 72 years, pickets in front of the U.S. Post Office.

Ammon Hennacy, director of Joe Hill House of Hospitality and St. Joseph's Refuge, is carrying on his protest against U.S. military intervention in Viet Nam. A sign he carries clearly announces he is against payment of taxes for war.

Opposing Communism and welfare state capitalism, Hennacy has many friends who stop to say help as he marches each work day from noon to 1 p.m. A few people are antagonistic when they question what he's doing, while others read his pamphlet and discuss the protest.

he started 20 days of fasting for his personal penance in the 20 years since the United States dropped the atom bomb on Hiroshima. he has added one day of fasting, taking nothing but water for subsistence.

In the first three days he lost 10 pounds, he said, but anticipates he will lose no more than a pound a day for the next 17 days.

"We have tried the 'illusion of violence' long enough," his pamphlet says, "let us try the power of love."
The Salt Lake Tribune also covered this protest in its issue:
Protestor Plans Fast Birthday

Ammon Hennacy, director of Joe Hill House of Hospitality, 1131 S. 1st West, will celebrate his 72nd birthday by completing of fasting in protest of "paying taxes for the war in Viet Nam."

The white-haired pacifist said he will continue his noon-hour picketing in front of the Post Office on Main Street Monday through Friday during a planned 20-day period of fasting . The 20 days mark one for each year since the World War Ⅱ atom-bombing of Hiroshima.

"I've lost 13 pounds this week." Mr. Hennacy said.
In Hennacy competed for attention with "an acid-rock band" at an Arizona State University anti-war rally. An Arizona Republic article briefly summarized his contribution:
Ammon Hennacy, 75, of Salt Lake City, who identifies himself as a Christian-pacifist-anarchist, said persons who believe in war should enlist and fight and those who are against war should resist the draft.

Hennacy told the students, "I don't believe in government any place. I believe in self-government."

He also said the students should be more radical so they could become anarchists, too.
Hennacy died . The Associated Press obituary read:
"One-Man Revolution" Dies Of Heart Ailment in Utah

Salt Lake City (AP) — Ammon Hennacy, an unsinkable individualist who called himself the "one-man revolution" and spent a lifetime protesting war and capital punishment, is dead at 76.

Hennacy died of a heart ailment after suffering a heart attack last week while picketing against the scheduled execution of two murderers.

He cut a uniquely personal path through life, proclaiming principles that sometimes seemed at odds.

Hennacy refused to pay tax, or to accept Social Security benefits. But almost daily he would trundle through Salt Lake City with a grocery cart, collecting donated food.

The food went back to his Joe Hill House of Hospitality, where transients could find a meal and a bed.

He was a "christian-anarchist-pacifist," Hennacy said. He urged revolution; but it was to be peaceful, where a man changed himself before trying to change society.

An anarchist, Hennacy once said, was a person "who doesn't need a cop to make him behave."

He was born in Negley, Ohio, in and bounced across the country at a variety of jobs before ending up in Utah.

For many years he picketed and fasted in front of the Salt Lake Post Office each summer to protest the U.S. bombing of Hiroshima. As each year passed, he added one day to his fast. His final vigil, in , lasted 24 days.
The Arizona Republic responded to the news in an editorial:
A Gentle Anarchist

A friend sent us a clipping from the New York Times obituary columns the other day. He wrote on it, "You remember Ammon, the pure in heart anarchist." That's an apt description for Ammon Hennacy, who used to spend his winters in Phoenix.

Unlike most winter visitors, Ammon had no letters of credit or travelers checks, and very little cash. He would work as an irrigator, back in before the citrus groves were turned into housing developments. On Sundays he would sell copies of The Catholic Worker while discussing "Christian Anarchy" with the priests and clergymen of the various churches in the Valley.

The pay wasn't particularly good, but Ammon was sure of one thing — none of it could be withheld by an employer who followed the instructions of the Internal Revenue Service. However, he wasn't a tax-evader, in the sense of doing anything fraudulent. He filed a carefully audited income tax return each year, and then challenged the government to try to collect the amount due.

Ammon usually accompanied his ritualistic filing of the federal income tax return by picketing the Post Office Building, which used to house the IRS. He obviously wanted to get arrested, but someone at IRS knew better.

So then Ammon would go on hunger strikes, which didn't impress the carnivorous among us because even on his regular diet he was a vegetarian who wouldn't even drink carbonated beverages. He also fasted on the anniversary of the bombing of Hiroshima — atomic and nuclear bombs were his own particular devils.

One of his favorite foods, when he allowed himself the luxury of eating, was bread made from a flour that he claimed came from cereals grown by the Hopis 100 years ago. He insisted the cereal had been preserved in Hopi pots because of the unequaled climatic conditions on the mesas.

Ammon Hennacy was 77 years old when he died in Salt Lake City on , according to the N.Y. Times. He was running the Joe Hill House of Hospitality for Migrants and Migrant Workers, and was a contributing columnist for The Catholic Worker, edited by Dorothy Day in New York. He was the author of several books, including "The One Man Revolution in America," slated for publication in .

During World War Ⅰ he went to prison for pacifist activities, but claimed he was unlike most pacifists because he could see the funny side of things. He was locked up 30 times for various protest activities, including five times for refusing to participate in civil defense exercises in New York during World War Ⅱ.

At one time or another he was a Socialist, a pacifist, a Quaker, an anarchist, and finally a Roman Catholic. He protested about nearly everything on the contemporary scene, but unlike most of today's protesters he didn't try to avoid punishment for breaking the law. He'd never dream of burning the records in a draft board, locking up a university dean, or disrupting a court by using profanity on the judge.

Ammon knew Marx and Engels, but his radicalism sprang from the heart of history's most radical experiment in government — the continuing revolution under which Americans rule themselves.

We don't know where the "pure in heart anarchist" is today, but we'll bet he is protesting without venom, and that he is able to find something funny in the lurches that the locomotive of history is making as it goes around one bend after another.