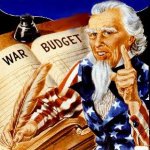 The War Resisters League has released its annual "pie chart" to show, according to their analysis, where your income tax money really goes. This year, according to the WRL, 20% of your tax dollar will go to pay for military spending and wars of yesteryear, and another 31% to pay for today's war budget — including 7% that is being spent directly on the war in Iraq and the increasingly global terror war.
The WRL is respectful enough to detail how they did their accounting, and to explain why they made the choices they did and why their numbers don't always match up with other groups who do similar calculations.
You can get PDF copies of the flier from their website.