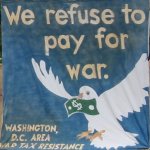 Lots of tax resistance in the news as approaches:
The "Democracy Now" radio show features Ruth Benn of NWTRCC and Pamela Schwartz of the National Priorities Project, talking about the cost of war and how to stop buying it. (This segment starts at 28:45, if you download the audio, or here's the transcript.) Benn discusses the phone tax and its recent partial repeal, the history of war tax resistance and of her own resistance, and how the government typically responds to resisters (including an update on the imprisoned tax resisters from the Restored Israel of Yahweh group).
The National Priorities Project has released their estimate of how much of your tax bill feeds the war machine. They use a different methodology from that used by the War Resisters League in their pie chart, so they come up with different numbers. If you're curious, read the fine print.
The Santa Cruz Sentinel profiles local war tax resisters Scott Kennedy and Alexander Gaguine:
Kennedy, 59, a conscientious objector to the Vietnam War, has not paid a full federal tax bill as his way to protest war and object to the billions of dollars spent by the U.S. government on bolstering defense.

"It's a valid moral stance," said Kennedy, a former Santa Cruz mayor. "To me, it's not just an extraordinary waste of resources, but withholding taxes is part of the effort to build a more humane world community. We're happy to pay taxes for a good purpose."
The San Jose Metro takes note of Silicon Valley tax resistance, and tax resisters Susan Quinlan and "Dave and Mary X".
Women's Action for New Directions posts some great ideas for "Tax Day" protest actions.
And Willamette Week profiles tax resisters John & Pat Schwiebert, John Grueschow, and Ann & Bruce Huntwork. I like the article's subtitle: "Your money is paying for a bloody war. Theirs isn't."