A full-page ad from the New York Times: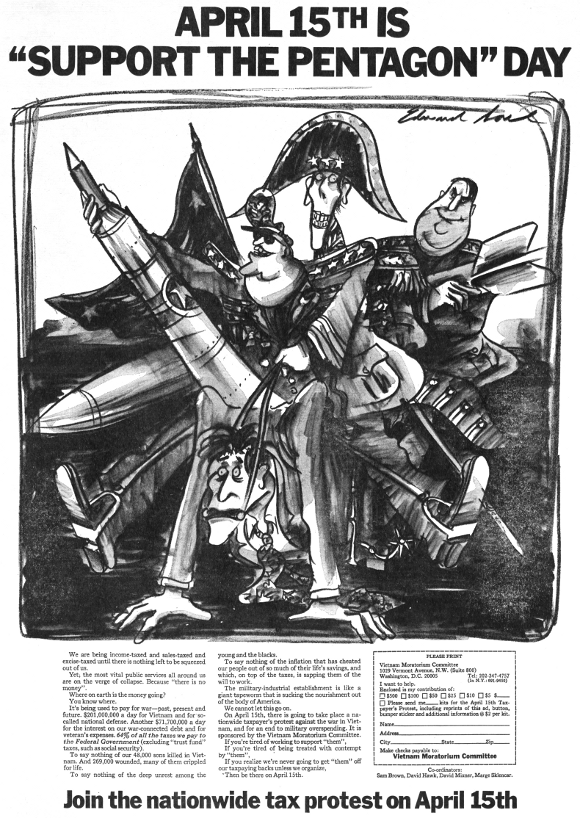 The copy reads:
Is "Support the Pentagon" Day

We are being income-taxed and sales-taxed and excise-taxed until there is nothing left to be squeezed out of us.

Yet, the most vital public services all around us are on the verge of collapse. Because "there is no money."

Where on earth is the money going?

You know where.

It's being used to pay for war — past, present and future. $201,000,000 a day for Vietnam and for so-called national defense. Another $71,700,000 a day for the interest on our war-connected debt and for veteran's expenses. 64% of all the taxes we pay to the Federal Government (excluding "trust fund" taxes, such as social security).

To say nothing of our 48,000 sons killed in Vietnam. And 269,000 wounded, many of them crippled for life.

To say nothing of the deep unrest among the young and the blacks.

To say nothing of the inflation that has cheated our people out of so much of their life's savings, and which, on top of the taxes, is sapping them of the will to work.

The military-industrial establishment is like a giant tapeworm that is sucking the nourishment out of the body of America.

We cannot let this go on.

On , there is going to take place a nationwide taxpayer's protest against the war in Vietnam, and for an end to military overspending. It is sponsored by the Vietnam Moratorium Committee.

If you're tired of working to support "them,"

If you're tired of being treated with contempt by "them,"

If you realize we're never going to get "them" off our taxpaying backs unless we organize,

Then be there on .

Join the nationwide tax protest on
Not much talk of tax resistance itself in this ad, nor of the responsibility taxpayers had for the war, but it represents a good attempt to cast taxpayers as additional victims of militarism.