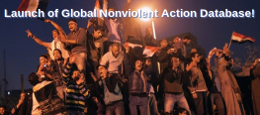 Students of George Lakey's peace and conflict studies program at Swarthmore College have assembled an on-line database of historical nonviolent actions, analyzed and categorized according to the scheme developed by Gene Sharp.
You can search this database by country, era, campaign "wave" (e.g. "Arab Awakening" or "U.S. Civil Rights Movement"), methods (e.g. "revenue refusal"), or by hunting for search terms in the action descriptions.
George Lakey describes the usefulness of the project:
Both strategists and scholars will be interested in the abundance of patterns among the cases, to be noted and explored. One reason these cases are presented in a database rather than in book form is to make it easier to explore connections: patterns are more visible and easily accessible. As the database grows, connections will become even more noticeable.