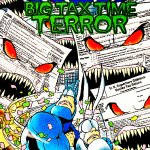 for started morning. We've got a lot more volunteers than in years past, or at least it seems that way to me, so that it's hard for the people we're helping to find chairs to sit in, or even elbow-room, in the crowded community center computer room.
Each client brings in a different set of tax challenges, some of which would probably be difficult for seasoned tax professionals to wrap their minds around, but we do our best to come up with complete and accurate returns based on the information we have to work with.
I helped five people file returns, and the federal government is $2,314 poorer as a result. Not everyone who files gets a refund, but most of the people I help are getting money back rather than paying money in.