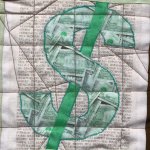 The Central Shenandoah Valley News Leader editorial board got together, wrinkled their collective brow, and penned this editorial tsk-tsking war tax resisters. They harumph and put on their best "after due consideration" voices give two reasons why they advise against tax resistance. See if they seem as remarkable to you as to me:
Federal taxes pay for a myriad of programs besides defense. Social programs should not suffer because of a well-intentioned but misguided desire to make a statement about war. We expect that if the federal revenue streams were to suffer enough from widespread tax protests that the first programs to be cut in case of a shortfall would not involve defense or war funding.
It's highly unlikely that most modern-day tax protesters will suffer the fate of Thoreau and wind up behind bars for their convictions — even as briefly as did Thoreau. Instead of that outcome, it's more likely that the Internal Revenue Service will get its pound of flesh one way or another, sooner or later. Having one's wages garnished is not a pleasant experience, and the less one earns the more painful it is. Having a bank account or property seized proves nothing either. It may take years, but the IRS will eventually find you and get the taxes owed, plus interest and penalties. Add to that a new law that increases the fine from $500 to $5,000 for filing a "frivolous" tax return — the IRS's catch-all term for anything other than a straight-ahead tax return — and all that is accomplished is to provide extra funding to the government to spend as they see fit.
Or, in summary: "Don't resist taxes, because you'll take money away from valuable government programs and you'll end up giving more money to the government."
Ah… newspaper editorial boards: self-important judas goats, putting a bullhorn before the semi-articulate bleating of Babbitt's collective subconscious, as challenging as a beauty pageant speech. Where would America be without their bold, ahead-of-the-curve ideas?