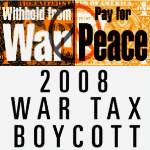 If you're planning to sign on to the War Tax Boycott, or even if you're thinking about it but aren't sure yet — now's the time to start preparing.
You can't just wait until rolls around and then make up your mind.
Here's why: most people who file their federal income tax returns in April are due to get a refund. If you've overpaid during the year and the government owes you money, you can't very well resist, can you?
The key is to adjust your withholding today. This way the government takes less money from your paychecks now, so that you'll owe something in April — then you'll be able to decide whether or not you want to resist.
Adjusting your withholding is easy. Most people can adjust their withholding by filing a new W-4 form with their employer. You probably filled out one of these forms as one of the first things you did when you got hired. People file new W-4 forms all the time — for instance when they get married, have children, begin to support their elderly parents, or for any number of other reasons.
All you have to do is to ask your boss or your Human Resources department for a new form, or you can download one from the IRS web site and print it out. Then turn it back in to your company, and they'll adjust your withholding for you.
The key to having less withheld from your paycheck is to declare more "allowances" on your W-4 (some people call these "dependents" or "exemptions," but that isn't really accurate). NWTRCC has a good guide on how to do this correctly. The more allowances you declare, the less money gets taken out of your paycheck each month and sent to Washington.
If you're not employed by someone else, the process is different. If you're self-employed, you are responsible for paying your own taxes quarterly, and resisting is as easy as reducing the amount you pay or stopping entirely. If you receive a pension or annuity and have income tax withheld from it, you change your withholding by filing a new form W-4P, which works pretty much the same way as the regular W-4.
But the important thing is: do it now! There are only a few more pay periods left in the year, and if your withholding is too high, you're out-of-luck. Not only will you be unable to resist when you file your return in , but when the government finally writes you a refund check for all that extra money it took from you during the year, it won't add any interest, and you'll feel like a sucker.