On the government took war tax resister Maurice McCrackin to court for his refusal to produce records for the IRS. Here's the photo, with the caption that accompanied it in the Binghamton [New York] Press a couple of days later: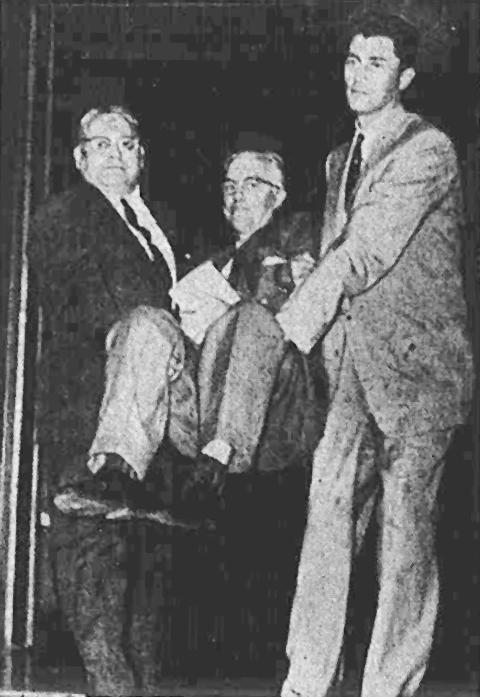 Here is some more news about the case from :
White House Reply About Pacifist Hit

New York (AP) — A clergyman said a White House statement concerning a pacifist Presbyterian Minister jailed in Cincinnati "doesn't really deal with the issue."

The comment came from the Rev. John Swomley of Nyack, national secretary of the Fellowship of Reconciliation, which describes itself as an interdenominational, anti-Communist pacifist organization.

Swomley was one of 13 ministers who, with Norman Thomas, veteran New-York Socialist, had appealed in a telegram to President Eisenhower to free the Rev. Maurice F. McCrackin.

The Rev. Mr. McCrackin declines to pay taxes because, he says they help pay for war weapons and he believes war is evil. He was jailed for contempt and went on a fast that he continued until . He will be tried on income tax charges.

The petitioners said the jailing "takes on the appearance of persecution."

The reply, signed by David W. Kindall, special counsel for the President, and addressed to Thomas, said: "In reply to the telegram from you and 13 ministers, dated , the Justice Department advises the contempt action against Maurice McCrackin was imposed on the Court's own motion.

"Prompt action under indictment on charge of failure to obey summons insured setting trial for ."

The Rev. Mr. Swomley said the reply "told us what we already knew."
Another photo accompanied an article about that trial: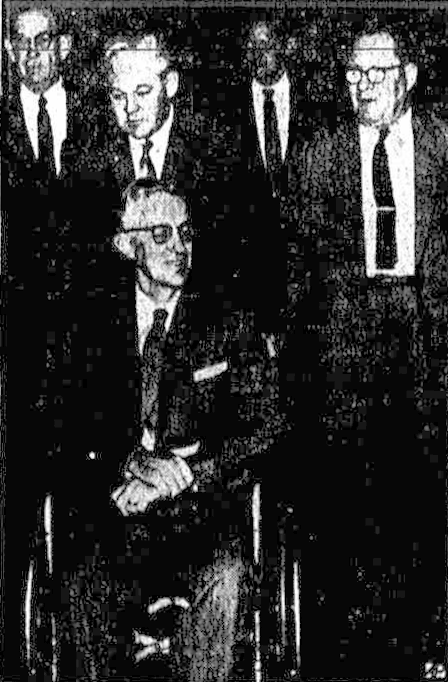 Attorneys for Pacifist Minister Battle On, Despite Denunciation by U.S. Judge

Cincinnati (AP) — Stung by a scathing denunciation of their client by a federal judge, attorneys for a pacifist minister were ready today to fight on — whether their disciple of civil disobedience likes it or not.

The attack on the Rev. Maurice F. McCrackin by Judge John H. Druffel came between the time a jury convicted the minister and the judge sentenced him to six months in a federal prison and fined him $250. Rev. McCrackin was convicted of refusing to answer an Internal Revenue Service summons to discuss his refusal to pay federal income taxes.

Judge Druffel told the 53-year-old bachelor minister — still gaunt from a 15-day jail-cell fast:

"Your pious attitude is more or less of a false face."

Claims Red Sympathies

Then, after accusing Rev. McCrackin of being a "pacifist agitator" and of associating "with those of overwhelming Soviet sympathies." the judge added:

"I don't know of any more pious traitor than that."

Although he was a court-appointed attorney who has served without pay, co-counsel Theodore M. Berry leaped to his feet in protest.

"As an officer of this court," he shouted, "the court is guilty of a grievous error. There is not one iota of proof that Rev. McCrackin is a Communist."

Berry and his co-counsel, Prof. Fred O. Dewey of the University of Cincinnati, were asked immediately after court adjourned if they planned to appeal. Berry shot back heatedly:

"You're damned right. What else can we do?"

One-Sided Presentations

Internal Revenue Service officials presented all the testimony for the prosecution; only a handful of character witnesses appeared for the defense.

The entire trial was an off-beat affair. Through it all, Rev. McCrackin remained serene — and silent. He refused to stand in court, plead to the indictment, defend himself or help his attorneys. While he awaited the verdict, he read calmly from a book by Albert Schweitzer.

Only after the jury's verdict — reached in only 19 minutes of deliberation — did he break his silence. Even then, he said only:

"There is one thing I'd like to say. It is my earnest prayer that the government will stop its war preparations and honor the consciences of those who would stop these evils."

Judge Makes Offer

Before sentencing. Judge Druffel disclosed that only a week ago, at a pretrial hearing, he offered probation to the minister in return for a plea, of nolo contendre (no contest).

But the minister of Cincinnati's St. Barnabas Presbyterian and Episcopal church refused to have anything to do with the legal fight.

Faced with complete lack of cooperation by their client. Berry and Dewey based almost their entire case on a contention the summons which Rev. McCrackin refused to honor was invalid, that it was issued by a person without authority to issue it.

While Rev. McCrackin has failed even to file income tax returns for on grounds much of the money would have been used for armaments, the trial did not strike at the heart of this issue. It was concerned solely with his refusal to answer the summons to discuss his tax troubles.
the papers printed a more thorough, bylined recap of McCrackin's activism:
Tax-Resisting Cleric Viewed As Crusader — or Crackpot

by Harold Harrison
Associated Press Writer

Cincinnati — (AP) – Some persons call him a "crackpot." Some call him a "publicity seeker." Others — more charitable — refer to him as an "idealist" or a "zealot." And his close followers look upon him as a beleaguered crusader for universal peace and brotherhood.

That is the Rev. Maurice McCrackin, Cincinnati's controversial Presbyterian minister whose passive resistance to income taxes for military purposes and in behalf of rights of Negroes three times have led him to jail.

The 56-year-old minister is a bland-appearing, mild-mannered man who has become somewhat of a headache, not only to law enforcement officers but his own Presbyterian church.

He is gray-haired, stands 5-feet 10½-inches tall and speaks in a well-modulated tone with none of the histrionics that usually are associated with persons who carry on such "crusades."

A Bachelor

He is a bachelor and lives with a sister in the parsonage of the West Cincinnati St. Barnabas Church — a combined Episcopalian and Presbyterian church with both white and Negro members.

As of now, however, he is only a member of the choir of the church. The Cincinnati Presbytery several months ago forbade McCrackin from carrying on the regular duties of a pastor and an appeal is pending. That stemmed from his violation of civil law — refusal to pay income taxes.

"I sing in the choir and I attend church meetings" McCrackin said of his present status. He also visits the sick but only as an individual.

He explained his status this week after he returned from Brownsville, Tenn., where he served out a fine for loitering in connection with an appearance, in behalf of Negro sharecroppers who have been removed from their farms.

The Negroes claim they were evicted because they registered to vote in the election. Landowners claim contracts to farm the land were not renewed because of mechanization of farms and reductions in cotton crop acreage.

Refused to Eat

Many of the Negroes have been living in a "tent city."

During 25 days of his stay in jail in Brownsville, Mr. McCrackin refused to eat in a passive resistance fast.

That was the third time McCrackin has been in jail.

However, a group of fellow-pastors reported their investigation indicated the Rev. Maurice McCrackin's conviction in Brownsville, Tenn., was chiefly his own fault.

In a report to the Presbytery of Cincinnati, the group's Church and Community Committee said:

"Mr. McCrackin's refusal to testify on his own behalf and his refusal to accept legal counsel left the court little choice but to find him guilty in light of the evidence which was presented by the prosecution.

"Had Mr. McCrackin chosen to cooperate with authorities at any one of several points and certainly during his trial, there is reason to believe that since he did have a satisfactory explanation for his activities on the night of his arrest, he might not have been found guilty."

Feels War a Sin

He first began to attract widespread attention in as a result of his long time refusal to pay income taxes because part ot the money goes for military purposes and he believes war to be a sin.

The Internal Revenue Service finally issued a summons for him to appear to discuss his income tax problems. He refused to honor it and was haled into Federal Court.

On that and subsequent appearances in court he refused to walk and had to be carried into the courtroom.

He refused to make any plea or statement and the then U.S. District Judge John H. Druffel sent him to jail for contempt of court. He refused to eat at that time.

Subsequently, he was carried into court again and Judge Druffel entered a plea of innocent for him. Smiling blandly, the minister refused to stand in court or cooperate with court-appointed attorneys and in , he was convicted and sentenced to six months in prison and fined $250.

He served his time in a correctional institution in Pennsylvania.

Later, the government sought unsuccessfully to collect back income taxes from McCrackin's share of his mother's estate which he said he had renounced.

Tax Philosophy

It's easy to arrive at either "crackpot," "zealot", or "crusader" description from McCrackin's philosophy on income taxes.

"I believe if we would withdraw support from something we think is wrong, we couldn't have wars," he said. "If we begin to act unilaterally, we wouldn't have them. If the people would withdraw funds we would change the policy of governments.

"It has been proven that the basis of keeping peace by terrorism never works. There always will be an explosion and this time it will be an explosion of extinction."

McCrackin was asked what he felt would happen in other countries if the United States should abandon all military preparations.

"We hope there would be enough individuals that would say the same thing and that it would become part of a movement," he replied.