Thanks to Lynette Warren of No Treason! for plugging The Picket Line . Lynette writes of her own project, saying in part:
I've gone fishin'. Instead of working 12 months/yr, I work about 5 months and my bottom line after taxes is amazingly close to what it was when I was working full-time. Many find that hard to believe. I was skeptical myself until I actually did it, but things have turned out well since I shrugged off nearly all my tax burden. Still, the most amazing thing to me about it is how few in number are the people who will even consider decreasing their gross income in order to increase their net hourly wage. My theory is that they just don't want to know. They want to believe that 40 hours (plus overtime) of honest work will get them ethical treatment from the powers-that-be so they just won't look at it.
It's true that one of the delights of lowering my tax burden this year was that I effectively gave myself a raise. I was working much less, and so making less money overall, but I felt as though someone had given me a huge bonus combined with a multi-month sabbatical. I'll feel even better in when I can send away to the IRS for a complete refund of all of the money they took from me at .
The typical American, according to Tax Foundation, spends more work days earning money for Congress than they do earning money for just about anything else in their budget: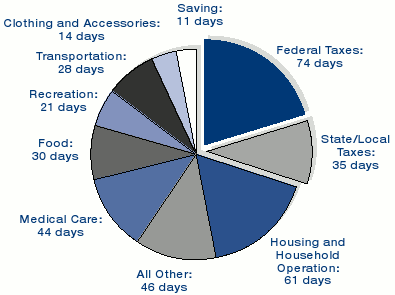 American taxpayers: For 74 days this year when you clock in, remind yourself who you're doing it for.