Does the name Cosmas Raimondi ring a bell? Yeah, me neither. And you'd think a name like that would stick in the memory. So I was surprised to see his name in an op-ed piece on tax resistance published :
Creating a ripple effect?

by Nick Thimmesch

Washington — What's remarkable about the Roman Catholic Archbishop of Seattle refusing to pay part of his income tax in protest of U.S. nuclear arms policy — thus risking jail — is that so few of the 95 million Americans who file returns protest at all.

In , according to the Internal Revenue Service, 26,925 people withheld all or part of their taxes in protest, their objections ranging from constitutional reasons to the argument that since the Republic is off the gold and silver standards, why pay taxes? These protesters represent an infinitesimal fraction of that huge, compliant herd of 95 million.

In , there wasn't one protester who cited pacifist reasons for refusal to pay up. In , there were 20 such souls. But in , there are likely to be hundreds because the "peace" movement inspires this sort of civil disobedience.

Seattle Archbishop Raymond Hunthausen announced that he was holding back $125, or half of the tax money he owed the federal government as "a means of protesting our nation's continuing involvement in the arms race for nuclear supremacy." Archbishop Hunthausen, 60, is known to be soft-spoken and low-key, about as friendly and open as anyone who came out of Montana — as he did. But he feels great moral upset over the construction of a Trident nuclear submarine base close to Seattle, and points out that one Trident has the destructive equivalent of 2,040 Hiroshima bombs. Thus it is "immoral and criminal… the Auschwitz of Puget Sound."

Now IRS doesn't take such protesters lightly. First, they write to get them to file a correct return and pay what they owe. If they don't respond, an IRS representative tries to make a personal visit. If that fails, IRS goes to the Justice Department.

, one such protester, Armen B. Condo of Huntington Beach, Calif., was convicted in federal court on 41 counts of tax violations. The government argued that Condo urged members of "Your Heritage Protection Association" — which he founded — to avoid paying federal tax on the grounds that U.S. money is no longer redeemable in gold or silver. Tsk, tsk.

So, Archbishop Hunthausen and the eight priests in Pittsburgh who stood up  — "Income Tax Day" — to announce that they were withholding part of their taxes to protest "the militaristic priorities of the federal budget and to resist our country's obsessive participation in the arms race," are sticking their necks out.

They can also create a ripple effect. When the Pittsburgh declaration reached Indianapolis, a reporter from the local Catholic paper phoned an associate pastor in a "socially active" parish to see if he knew of any area priests who were also protesting. According to National Catholic News Service, the priest, Father Cosmas Raimondi, said yes, he knew one — "me." Father Raimondi said his expression of conscience was better called "divine" rather than "civil" disobedience.

Another priest, Father James A. Schexnayder of Oakland Calif., said he was "stimulated" by Archbishop Hunthausen's action, so he, too was withholding half his 1981 taxes — the miserable amount of $60. Father Schexnayder said he "will not be part of a plot to incinerate humanity."

And so it goes. There are deep rumblings in the Catholic Church, particularly in the clergy, about spending on nuclear weapons. In Amarillo, Texas, the United Way recently stopped funding the Catholic Family Service because Bishop Leroy T. Matthiesen had established a counseling program for workers at the Pantex Nuclear Weapons Assembly Plant. Pantex complained, charging that the Bishop's anti-nuclear weapons views found their way into the operation of Catholic Family Service.

With nearly half the Catholic bishops in the U.S. backing a bilateral freeze on nuclear weapons, the Reagan administration is worried enough that it is dispatching Secretary of State Alexander Haig and Defense Secretary Caspar Weinberger to meet with the bishop's committee this week on the weapons issue.

Whenever a movement gathers momentum, as the anti-nuclear weapons campaign is now, the most committed often threaten to hold back on paying taxes. But if every American who had strong feelings about issues which involve federal funding expressed those feelings by refusing to pay income taxes, millions of Americans would have a plateful of trouble.
But the record shows that this kind of protest is only occasional, and never is expressed in worrisome numbers. The American taxpayer is the world's most reliable. Indeed some cynics claim that the American taxpayer is a sheep, always waiting patiently to get fleeced.
So I tried to find out some more about Cosmas Raimondi and his protest. Here is something from :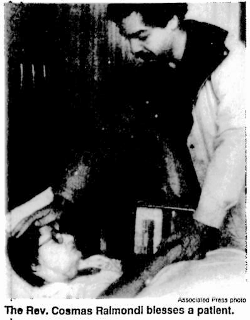 Indianapolis (AP) — A church council said it will not comply with an Internal Revenue Service demand to pay federal taxes owed by its parish priest, who withheld 50 percent of them to protest U.S. defense spending.

Kathy Wallace, president of the 13 member Holy Cross Catholic Church Council, said the decision to support the Rev. Cosmas Raimondi was based on "the sacredness of conscience."

"Although we personally do not feel called to war tax resistance for ourselves, we do support the right of Father Raimondi to make that decision according to the dictates of his own conscience before God," Miss Wallace wrote the IRS on .

The 32 year old priest began withholding half his federal tax bill in 1982, and he told the council that he had donated the withheld money to various social service agencies. In , the IRS put a lien of $593.26 against the priest's salary.

Miss Wallace said the council did not act on the first demand for payment by the IRS, and an IRS representative came to her home on and presented a demand for $604.18. Council members later asked parishioners their opinions and consulted a lawyer-theologian from the Center of Law and Pacifism in Colorado. "I really don't know what's going to happen now," said Raimondi, who attended the news conference at which the council's decision was announced. "It's up to the IRS.

"I feel relieved, and I feel good," he said of the council's support. In an interview after the news conference, Raimondi said he began his tax protest last year because: "I decided in my conscience that if I'm going to pray and teach about peace, I couldn't at the same time pay for war."
…and, a few days later…
Indianapolis (AP) — The Most Rev. Edward T. O'Meara, archbishop of Indianapolis, says the Rev. Cosmas Raimondi's tax protest is a "personal issue" between the priest and the Internal Revenue Service.

But O'Meara claimed the right to address the political issues which prompted the protest.

O'Meara, in a statement, responded to "a number of requests to offer some comment" on events surrounding Raimondi's refusal to pay part of his federal income tax.

O'Meara said he neither supported nor rejected Raimondi's decision to hold back half his income tax payments as a protest against the government's military buildup and its policies in Central America.

But he upheld the priest's right to take a stand on arms and other public issues, and reaffirmed his own endorsement of the recent pastoral letter from the National Conference of Catholic Bishops, calling for a halt to the nuclear arms race.

"Whether you agree or disagree with the tactic Father Raimondi has elected to use, make no mistake that the Roman Catholic Church does regard the questions of armaments in general, nuclear arms in particular, national budgetary priorities and basic human rights as issues which religious leaders have a right to address," O'Meara said.

On , the parish council at Holy Cross Church, where Father Raimondi is pastor, announced that it would not withhold the back taxes from his paychecks and send them to the IRS.

The IRS filed a court lien against Raimondi for $604.18 in taxes and interest dating to last year, and had sought the money through the parish. But the parish council said it would not "undermine" its pastor's act of conscience.

Raimondi said the IRS had not informed him of its plans.
So the IRS, acting with uncharacteristic speed (due no doubt to the publicity surrounding the case), seized Raimondi's car:
Indianapolis (AP) — The federal government has taken the Rev. Cosmas Raimondi's car, but the young Roman Catholic pastor remains driven.

His supportive parishioners make sure he gets around, and he still refuses to pay taxes to support the military.

Raimondi said three or four families who attend Holy Cross Church on the city's poor near east side offered to loan him an auto permanently. "I'm beginning to wonder why I even had a car," he said.

Raimondi, an Indianapolis native known as "Father Cos" to parish schoolchildren, has withheld half his federal income taxes to protest U.S. military intervention in Central America, the nuclear arms race and draft registration.

, the Internal Revenue Service put a lien of $604.18 — the amount he owed plus interest — against his salary and seized his Honda Civic when his parish council refused to pay the amount.

The car was valued at $2,500, and Raimondi is to receive the difference between that amount and what he owed.

Raimondi says he will respond by taking a pay cut to reduce his taxes or avoid having any taxable income that can be used for purposes he doesn't support.

He now earns $545 a month, plus a monthly stipend of up to $70.

Lack of a car has not hampered his duties, Raimondi said at his church, where parishioners were putting donated Thanksgiving food for the poor into 550 boxes lined up in the pews.

"I think it is a protest when you give and organize for the poor," Raimondi said. "It is showing what is happening to people's lives because we don't have enough in our budget to take care of people."

In contrast, he said, money spent on the military is "sinful."

Loss of a car has made him thankful for his friends and parishioners. About a dozen have loaned him theirs at one time or another, and three or four have offered to lend him their third family car permanently.

"I've not had to ask one person," he said.

Three people walked out of Mass in protest, and haven't returned, when Raimondi announced to the parish's 179 families that he wasn't going to pay his taxes.

His pastoral assistant, John Girard, 23, said the church has gained more parishioners than it lost, although he cannot say how many.

Parishioner Mark Scott, 38, said weekly collections have increased about $200 since Raimondi's protest gained publicity .

While young and old in his parish have supported him, Raimondi said the 40- to 50-year-old age group has had difficulty understanding his political views.

"I think it's harder for them because they come from the age of peace through strength which was all fine and dandy in World War Ⅱ," he said. [Another version of this same article adds at this point: "We have to learn how to deal more efficiently with the Soviet Union."]

Mark Scott, coordinator of the parish food pantry, said: "I support him 100 percent. I would have loved to do what Cos has done, but I have a family to think about. I rebel by giving food to poor people."
Another version of this article adds:
The priest said he believes that "by and large, a lot of people are not happy with our Government's defense policies."

Before withholding taxes, Father Raimondi said he protested by going to peace marches, organizing prayer services on behalf of the people of Nicaragua and El Salvador, and writing Congress. He even met with Sen. Richard Lugar (R., Ind.) to discuss U.S. military policies.

Melissa Derrick, a teacher at the parish school, said the priest's civil disobedience caused some concern among the 207 students who worried whether he was doing the right thing.
"James A. Schexnayder" is another tax resisting priest that I draw a blank on, but the on-line archives have been less forthcoming about his resistance.