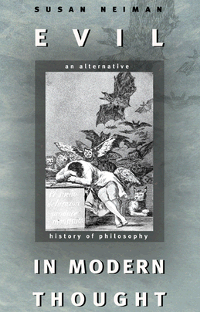 Susan Nieman's Evil in Modern Thought: An Alternative History of Philosophy visualized as a modern social media discussion thread, chapter two.
(Those of you reading this in a feed aggregator will probably want to follow the link to read the post at my blog where the formatting will make a lot more sense. You can find chapter one at this link.)
Pierre Bayle

God is either willing to remove evil and cannot; or he can and is unwilling; or he is neither willing nor able to do so; or else he is both willing and able. If he is willing and not able, he must then be weak, which cannot be affirmed of God. If he is able and not willing, he must be envious, which is also contrary to the nature of God. If he is neither willing nor able, he must be both envious and weak, and consequently not be God. If he is both willing and able — the only possibility that agrees with the nature of God — then where does evil come from?

Pierre Bayle

Makes Manichaeism look pretty sensible in comparison, doesn't it?

anonymous

Have you considered that maybe God permits sin and imperfection in order to make his wisdom more obvious and pronounced?

Pierre Bayle

So God is like a doctor who lets his children break their legs so he can show off how good he is at setting bones?

Augustine

God gave us a great gift, the gift of free will, but that necessarily included the freedom to do wrong. God, in order to be just, as we know God to be, must meet wrong actions with bad consequences. So there is no incompatibility between there being evil and cruelty in the world and there being a just and good God in charge of it all.

Pierre Bayle

Yes, but God, being omniscient, knew that we were going to abuse this gift of free will, and so He admitted evil into creation voluntarily. This is the difference between giving your son the car keys, knowing that he could get drunk, and giving your son the car keys knowing that he is drunk.

Pierre Bayle

So either there is a competing evil agency up against God's power, or God Himself planned man's fall from grace, and that this fall should be contagious, that it should ceaselessly and endlessly produce all imaginable crimes over the entire face of the earth — in consequence of which he prepared all the misfortunes that can be conceived for the human race — plague, war, famine, pain, trouble — and after this life a hell in which almost all men will be eternally tormented in such a way that makes our hair stand on end when we read descriptions of it.

Pierre Bayle

I suppose there's another option: we could reject reason itself for getting us in this dilemma in the first place, and instead just throw ourselves blindly on faith.

Voltaire

I admire

Pope

and agree with him. No philosopher has been able to explain moral and physical evil.

Bayle

only taught us to doubt, but he also makes us doubt ourselves in our doubting. Yet it is cruel to respond to a Lisbon earthquake by speculating that maybe it is part of a greater good. (Still, if people did not themselves do such evil to one another, we could well tolerate a Lisbon earthquake now and then.)

anonymous

Well, what then would you have us do?

Voltaire

Let us work without reasoning, it is the only way to make life endurable. Cultivate your garden.

Voltaire

Voluptuousness and philosophy produce the happiness of the sensible man. He embraces voluptuousness by taste. He loves philosophy by reason.

Immanuel Kant

When you look at the inner perfection of mechanism and delicate beauty of a plant that preserves itself throughout the turns of the seasons, it is impossible for anyone to believe that this is just the result of natural laws — one immediately discerns the hand of the Creator in this.

David Hume

On the contrary, most people never point to ordinary miracles like these when they attempt to come up with evidence for the influence of the divine. They always point out the weird deviations — some sudden and unexpected death or accident, or an unusual drought or monsoon. It's only philosophers who gaze thoughtfully at their own wrists, musing 'God designed this!'

Voltaire

You know what really gets my goat? The Creator gave us eros, or in any event eros is such a magnificent and uncanny thing that even without the Creator, it would tend to make anybody worship the Divinity. But then, in this 'best of all possible worlds,' we get syphilis. And where did it come from? Not from fallen sinners getting their just deserts, but from innocent Indians living in a state of nature overseas.

David Hume

Polytheism makes more sense, given the weird contradictions in the world around us — the universe doesn't appear to have a purpose, but many cross-purposes. The idea that this universe must have a creator, who is thereby mighty and praiseworthy, doesn't hold up under scrutiny. It's just as likely to have many creators, or a creator who was haphazard and thoughtless, from the evidence available to us. For that matter, why assume it was created at all. The universe isn't like a watch lovingly crafted by a watchmaker, but like an egg laid by an ostrich, who generates and deploys it without putting any thought into its construction or destiny at all.

David Hume

Polytheism would lead to a morally better society, too.

good Christians everywhere

Atheist!

David Hume

No, just a skeptic. The differences between theism and atheism are only differences in degree and tone. Religion and reason both lead you into thickets of nonsense. Reason is especially inept at explaining evil.

Marquis de Sade

But it's a fabulous way of becoming evil!

Marquis de Sade

I've been trying to think up the worst crime against nature imaginable, but I'm having a devil of a time of it. All crimes seem to either be encouraged by nature or surpassed by it. I still have hope of one day outdoing the devil himself in evil, but I don't think I'll ever outdo God… I'll have to be content to learn from His example and describe Him carefully in my writing, between bouts of sodomy.

anonymous

You are one sick f—er. I'm surprised the guards let you play on the Internet.

Marquis de Sade

I am the sick fucker. One day they're going to name sick fuckery after me. But, you know, God must have created evil for a purpose, right? In this best of all possible worlds, what appears to be evil must be an essential part of the greater good, right? So why not give yourself over wholly to evil, confident that you are helping to fulfill God's design? Blessed are those who are persecuted because of righteousness, so saith the Lord, and I intend to do all I can to add to the ranks of the blessed.

anonymous

Don't feed the trolls.

Arthur Schopenhauer

Life is a monotony of uninterrupted suffering. Or rather suffering interrupted only by monotony. (Even our fondest imaginings of the afterlife divide it into suffering and monotony.) The world is likely as bad as it could possibly be and yet still continue to exist. But there is a sort of justice in this, in that we are so contemptible that this is what we deserve.

Arthur Schopenhauer

And of course there is no God.
…continued on 14 June.