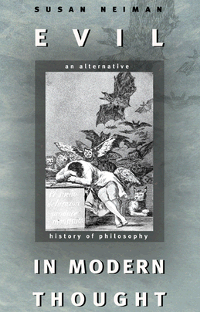 Susan Nieman's Evil in Modern Thought: An Alternative History of Philosophy, visualized as a modern social media discussion thread, chapter one.
(Those of you reading this in a feed aggregator will probably want to follow the link to read the post at my blog where the formatting will make a lot more sense.)
Alfonso Ⅹ

hates his Ptolemaic astronomy class

Alfonso Ⅹ

If I had been of God's counsel at the Creation, many things would have been ordered better.

good Christians everywhere

Blasphemy!

Gottfried Liebniz

LOL. Nooooobody expects the Copernican Revolution! God doesn't look so dumb now, does he?

Isaac Newton

Seriously. The more I look, the more amazed I am at the order and wisdom of Creation.

René Descartes

But how do you know your observations aren't the result of an evil demon manipulating your senses rather than true reflections on the state of creation?

Jean-Jacques Rousseau

Alfonse, this just shows what book learning will get you. A humble farmer would never be so hare-brained as to try to out-think God.

Pierre Bayle

launches the Enlightenment

Pierre Bayle

Properly speaking, history is nothing but the crimes and misfortunes of the human race.

Gottfried Liebniz

You're as short-sighted as Alfonso. What look like crimes and misfortunes to you are just part of the mosaic of the best of all possible worlds from God's point of view.

Georg Wilhelm Friedrich Hegel

On the contrary, Pierre. History — including the crimes and misfortunes of the human race — is the plan of God fulfilled, verifying the reality of providence. We just need to crack the code.

Pierre Bayle

likes Manichaeism

good Christians everywhere

Blasphemy!

Gottfried Liebniz

God could no more create a most perfect world without evil than He could create a square circle. If we were omniscient and could see the whole of creation over the whole of time, we would realize its perfection. Over time we will learn the connections between sin and suffering, and better understand God's wisdom.

Immanuel Kant

But we aren't omniscient, and we can't see the world this way, so what makes you so confident?

Georg Wilhelm Friedrich Hegel

So God is like a grocer? He can give you anything you want as long as it's in stock? 'It may not be great, but it's the best we could find today.'

Gottfried Liebniz

invents Calculus

Isaac Newton

The hell you did.

Alexander Pope

All Nature is but Art, unknown to thee:
All Chance, Direction, which thou canst not see;
All Discord, Harmony not understood;
All partial Evil, universal Good;
And in spite of Pride, in erring Reason's spite,
One truth is clear, whatever is, is right.

Voltaire

You realize this puts the kibosh on original sin and divine providence, don't you?

good Christians everywhere

Blasphemy!

Alexander Pope

If plagues or earthquakes don't break Heaven's design, why should we think the cruel acts of men would?

Jean-Jacques Rousseau

To deny the existence of evil is a most convenient way of excusing the author of that evil; the Stoics formerly made themselves a laughing-stock for less.

Voltaire

Seen the news lately?

Trending Article

Lisbon destroyed by earthquake, fires, tsunami; tens of thousands killed; God's benevolence thrown into doubt.

Voltaire

Best of all possible worlds, my ass.

Immanuel Kant

Even earthquakes have a positive side to them. Who knows but that the alternatives might have been even worse?

Jean-Jacques Rousseau

The tragedy wasn't caused so much by the earthquake as by the idiocy of packing so many people into an urban environment which is foolish humanity's method for making earthquakes as horrible as possible.

Immanuel Kant

I think you're right after all. All these attempts to excuse-away suffering and praise this as 'the best of all possible worlds' are just philosophers brown-nosing God in the hopes of getting on His good side.

Jean-Jacques Rousseau

Everything is good as it leaves the hands of the Author of nature; everything degenerates in the hands of men.

Immanuel Kant

You have done for human nature what Newton did for gravity, and have proven Pope was right all along.

Jean-Jacques Rousseau

We need to retreat along the path we took to decadent civilization all the way back to when we were noble savages and then make our decisions again without the influence of vanity.

good Christians everywhere

You mean that we should 'become as little children' to escape the consequences of the Fall of Man. I think I know this story.

Jean-Jacques Rousseau

Uh… not exactly. God's guidance is not necessary here. If we do not interfere, nature will punish vice and reward virtue all by itself.

anonymous

If we are naturally good and virtue prompts its own rewards, how did we fall so far so fast and why would it take so much work to get us back to paradise?

Immanuel Kant

invents transcendental idealism

Immanuel Kant

I'm starting to distrust the intuition that says virtue and reward are systematically, necessarily connected. All human moral effort seems an attempt to fulfill this intuition, but it fails, and so requires faith in a Divine judge to set the scales right in the end.

Immanuel Kant

There seems to be an unbridgable gulf between the 'is' and the 'ought' — they occupy different dimensions, and only coincide by coincidence.

Georg Wilhelm Friedrich Hegel

That's too passive. The aim of philosophy is to describe reality in terms of the divine ideal it is enacting — a divine ideal that is the same as that of enlightened human reason — and then to press our reason on reality, to make our 'ought' an 'is' by force or to understand every 'is' as an 'ought' by reason.

Karl Marx

The philosophers have only interpreted the world, the point is to change it.

Immanuel Kant

Come to think of it, if we knew that there was a necessary connection between virtue and reward, that would be the end of virtue, as it would just be subsumed by self-interest. What makes an action virtuous is that we do it because it is right, not because we expect fortuitous consequences.

anonymous

So we should always do 'the right thing' whatever the consequences? What if a murderer asks me if his intended victim is hiding in my cellar, is it okay to lie to him and say 'No'?

Immanuel Kant

In such a case, you shouldn't lie. How confident can you be in the consequences of your actions? What if you lie and the murderer goes away only to immediately find your friend who has, unbeknownst to you, crawled out your cellar window to try to escape?

anonymous

Weak.

Immanuel Kant

invents deontological ethics

good Christians everywhere

Not exactly.

Immanuel Kant

Two things fill the mind with awe and wonder the more often and more steadily we reflect upon them: the starry heavens above me and the moral law within me.

anonymous

I think I saw that on a refrigerator magnet.

Immanuel Kant

Try this one on for size: 'Act as though the principle of your action were to become by your will a universal law of nature.' What do you think?

Immanuel Kant

It's kind of like imagining that although this isn't the best of all possible worlds, it could be quasi-better if some of our freedom were replaced with natural laws that compelled goodness; if we behave as though those laws were already in force, we get the goodness and the freedom too. Imagine that you yourself were God creating the perfect world with the principles you choose.

Karl Marx

Let's stop imagining and start doing it.
…continued on 13 June.