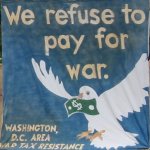 Iowa's KCRG television news profiles tax resisters Ken and Noreen Gingerich. Excerpts:
Ken Gingerich of Johnson County said, "I feel the military budget in this country and military spending is way out of line."

, Gingerich and his wife Noreen have done their best to make sure their taxes do not fund any sort of violence.

Ken said, "We've either lived below the taxable income or withheld a portion of our taxes."

Ken calls it war tax resistance. It is his protest to end violence. The IRS calls it a frivolous tax return, punishable by up to a $5,000 fine. It is a risk the Gingerich's are willing to take. They are Mennonites. Their religious beliefs do not allow for violence.

Ken said, "If I have to choose between god and country, it'll be god."
There's what looks like a video-link on the site too, but I wasn't able to get past the opening commercial.