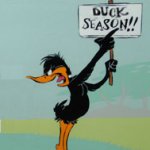 Dubya told the annual convention of the Veterans of Foreign Wars that if he had been in charge instead of those paisley-mod-podged pansies Nixon & Kissinger, the United States would not have stopped fighting the Vietnam War.
His audience, of whom we can expect many would have been maimed or killed had today's Dubya been in charge at the time, apparently having grown soft since their service days, were unable to roust themselves to frag the speaker.
Dubya brought this up in the course of comparing the Vietnam War with the Iraq War (I kid you not), his logic being that the reason the former has such a bad reputation is that we stopped fighting it, and he doesn't intend to repeat that terrible error this time.
The Democrats, baffled once again by Dubya's masterful rhetorical ju-jitsu, immediately reacted by disparaging any comparison between the Iraq War and the Vietnam War.
"President Bush's attempt to compare the war in Iraq to past military conflicts in East Asia ignores the fundamental difference between the two," [Senate Majority Leader Harry Reid] said. "Our nation was misled by the Bush administration in an effort to gain support for the invasion of Iraq under false pretenses, leading to one of the worst foreign policy blunders in our history."
Iraq's prime minister, Ngô Đình al-Maliki, was unavailable for comment.