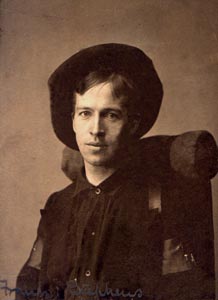 Here is an interesting note about the American artist and Georgist Frank Stephens, who founded the utopianist community of Arden, Delaware.
I first learned about this case from a brief note in the back pages of the issue of Friends Intelligencer:
At Wilmington, Del., on , a Federal jury in the case of Frank Stephens, founder of Arden, the single-tax colony, charged with violation of the Espionage Act in calling women Liberty-bond sellers "murderers," returned with a verdict of not guilty, and Stephens was dismissed.
Here is a more complete account (excerpts):
Stephens Acquitted of Any Violation of Espionage Act

Federal Jury Returns Verdict of Innocence After Five Hours Deliberation

Leaves at Once with Son Donald for Arden

Jurors Ask Court For Instruction Regarding "Wilful Violation" and Then Agree

Frank Stephens, known throughout the country as the founder of the Single Tax colony at Arden, Delaware, where he lives and pacifist of renown, who was charged in United States Court with violation of the Espionage act, was declared not guilty by the jury after a 5 hours deliberation. Several hours before the verdict was returned the jury returned to the court room and asked Judge Victor B. Woolley for further instruction as to the law. Later the verdict of acquittal was returned.

Gilbert E. Roe, who with Phillip L. Garrett, of this city [Wilmington, Delaware] defended Stephens, left for New York immediately after the announcement of the verdict, while Stephens and his son Donald and several friends from Arden who accompanied him to court, left for the Single Tax colony. The trial began on Thursday.

The point in the evidence which apparently saved Stephens from fine and imprisonment was that involved in section three of the act which contains the clause "willful violation." From the evidence presented it was apparently difficult to establish willful violation of the law on the part of Stephens. His fate apparently rested on his intent at the time he is alleged to have told Mrs. Mabel Van Trump of Silverside while she was soliciting subscriptions for Liberty Bonds that she was "sending our boys to be murdered and that no lady would be out on a murderous errand."

On the stand in his own defense Stephens denied that he made the statement charged against him but had said that according to his conception of Christianity, war was organized murder and that he was for peace. In his defence Gilbert E. Roe, who defended Senator LaFollette before the U.S. Senate recently placed much emphasis on the fact that when Congress passed the law they inserted the word "willfully" for the very purpose of preventing the prosecution of persons who had no intentions of interfering with the military and naval operations of the United States.
Stephens is one of the leading pacifists in this country and an advocate of the doctrine of non-resistance. Recently he figured prominently in the activities of the People's Council of Democracy and Peace being a member of the executive committee of that body.
Stephens, on the stand , gave considerable time to a sketch of his life, leading from the time of his graduation from the Academy of Fine Arts, Philadelphia, as a sculptor to the present time. The allegations of the government that he branded Mrs. Van Trump and "all those who sold Liberty Bonds as murderers" that he had state that "you are sending our soldiers across to be murdered,["] and that "she (Mrs. Van Trump) was not a lady; that no lady would be engaged in such a work," were asserted by the defendant to be altogether without foundation; that he never uttered such remarks to them.
"I am a pacifist; a peace maker; one who stands for peace," he said, and went on to explain how he first became a believer of pacifism.

In his work in Philadelphia, he came in almost constant contact with the late William L. Price, architect, who drew the plans for the large Traymore Hotel at Atlantic City. Mr. Price was a great pacifist and converted Mr. Stephens into its belief, while the latter converted Mr. Price as a Single Taxer. This occurred about eighteen years ago.

It was about at this point that Judge Woolley urged Mr. Roe to endeavor to get nearer the issue. Mr. Stephens had completed his story of his life and commenced a narration of his experience with Mrs. Van Trump and Mrs. Grubb on . His testimony in this regards was:

He was at work in his field, about one-eighth of a mile from his house, laying out a plot for a new house and setting a hedge when he was accosted by the two women. He felt inclined to believe that the women went somewhat out of their way to reach him. They came from the home of Mrs. Broadbent, he said.

Mrs. Van Trump, going up to him, announced that she was selling Liberty Loan Bonds.

"I was not in a very good humor and was irritated, I must confess, at the ladies coming to me," said Stephens. "Many unkind and unjust things, to the effect that the people are irreligious, had been attributed to Mrs. Grubb and it angered me to see her come to see me. I couldn't but feel that they had come to make trouble and I was indignant over the sentencing of my son to nine months' imprisonment for refusing to register. I was not in a good humor."

Mr. Stephens told that Mrs. Van Trump asked him to buy a Liberty Bond, but that he refused, whereupon she wanted to know his reasons for declining.

"My acceptance of the Christian doctrine of non-resistance and my belief that war is organized murder and I cannot conscientiously take any part, does not allow me to buy them," he told her.

He said that at one time Mrs. Van Trump reminded him that "she was a lady."

"Nevertheless, you are on a murderous errand," he said he told her.

He took occasion to explain that the only reason he could assign for the two women making the allegation against him was, probably, their confusing of the words "murderous" and "murderess."

Mrs. Van Trump remarked to him, none too pleasantly, Stephens testified, "I am sorry that in protecting the people we have to protect some like you."

He testified that he did not say to the two women that "You and all who sell Liberty Loan Bonds are murderers," that "you are sending our soldiers across to be murdered," or that "no lady would be out on such an errand."

"Did you have any intention, by your conversation, of interfering with the operation of the military forces of our country?" questioned Mr. Roe.

"None whatever," was the defendant's answer.
The defendant explained that he has many close friends who have purchased Liberty Bonds, and that he had never tried to discourage them from buying them. He also denied that he had advised his son, Donald, not to register.
The Ardenites were subject to lots of harassment from the local blue nose set. One time, a couple dozen of them (including Upton Sinclair) were arrested for playing baseball and tennis at Arden on Sunday, which was illegal under a statute forbidding people from engaging in "worldly amusements" on the sabbath.
Among those in Stephens's circle at Arden and on the People's Council of America for Democracy and Peace was Scott Nearing, whose book Living the Good Life I reviewed here , and who, like Stephens, was charged under the Espionage Act for his anti-war sentiments.