Here's more about the dramatic tax resistance action of LaSaunders Hudson.
A UPI dispatch from around :
Irate Dry Cleaner Refuses To Pay Tax

Memphis, Tenn. (UPI) — An irate dry cleaner who refused to pay taxes pulled a gun on four state revenue agents , forced three of them to walk out of his store naked and held the fourth hostage, demanding a conference with the governor.

Gov. Winfield Dunn boarded a plane in Nashville and flew here to meet with Leonard Hudson, 29, described as a black militant partner in the BHK dry cleaning store.

Police said Hudson, who with his partner has refused to pay state taxes "because of the way the black man is treated," forced three agents — two of them white and one black — to strip to the buff and march out of his store, much to the astonishment of the passersby in predominantly black Park Street.

The three agents spotted a nearby moving van and, obscuring their nudity as best they could, hobbled frantically over to it and grabbed up furniture pads to wrap around themselves. The crowd cheered and applauded.

In the store, police said, Hudson held Don Duncan, chief of field operations for the collection division of the Department of Revenue. Duncan was allowed to remain dressed.

Authorities cordoned off a two-block area around the store.
And from the Geneva Times comes this Associated Press dispatch: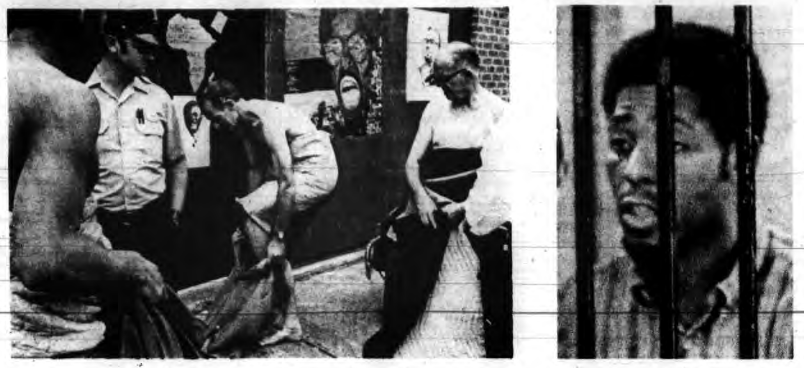 Memphis, Tenn. (AP) — Three state tax agents were sent naked into the street and another was held hostage for eight hours by a black businessman who demanded — and got — a meeting with Gov. Winfield Dunn over a $167 tax dispute.

The businessman, identified by police as LaSaunders Hudson, 29, met with Dunn over Negro problems for an hour at a downtown hotel. He claimed he didn't owe the $167 in back sales taxes because of what he called Tennessee's willful refusal "to deal with the needs of the black citizens of the state."

After the meeting, police took Hudson, co-owner of a dry cleaning firm, into custody without charge. He was held overnight in the Memphis jail pending a police meeting with the district attorney. Police said Hudson's lawyer requested that he not be questioned until .

Don Duncan, in his early 30s, was held hostage at pistol point until Dunn flew to Memphis from the state capital in Nashville. Duncan was treated at a hospital for hands swollen from being bound and was released.

The incident began when the four agents went to Hudson's cleaning firm morning to collect back sales taxes. They returned shortly before noon after they learned the check Hudson gave them would not clear the bank.

At this point, Hudson pulled a gun on the four agents and ordered three of them to remove their clothes and walk into the street, according to Vince Tuminello, one of the agents released. "He said he would kill him (Duncan) if we did not strip to the skin," Tuminello said.

He identified the other two agents released with him as Lee Mullins and John Mabile. Tuminello and Mabile are in their 50s and white, Mullins is in his 30s and black.

Hudson, after forcing the trio into the street naked, bound the hands of Duncan, chief of field operations for the state Revenue Department, and put him in the back of the store, police said. Hudson communicated with police through the mail slot in the door and a plate glass window until an auto arrived to take Hudson to his meeting with the governor.

A spokesman for the governor said Hudson and Dunn "talked about several problems confronting blacks in the country, not just Tennessee."

"The governor said he thought Mr. Hudson was frustrated because of taxes," Dunn's spokesman said. "Mr. Hudson told the governor he couldn't pay the taxes and support his family. He said he realized he had done wrong, he had to face the consequences."