| | |
| --- | --- |
| | Maximum Participation Billboard Liberation |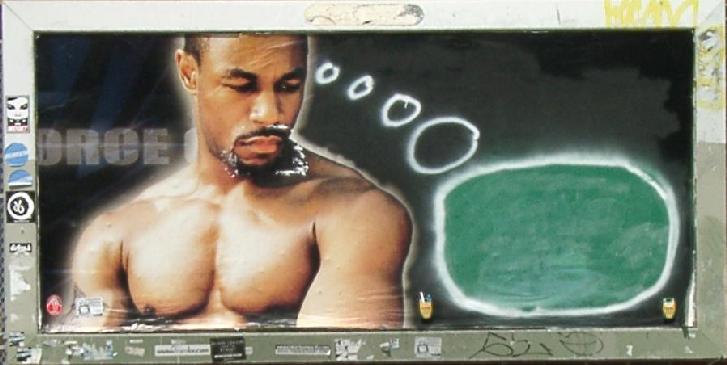 By the official rules of billboards, someone pays rent on the sign for a time, and by doing so can put an image there that turns our neighborhoods into advertising supplements.

Billboard liberation suggests that our eyeballs and our neighborhoods can be reclaimed and that a billboard can be transformed from being yet another ad into an explicit critique of advertising and consumerism, or even into art.

This page introduces a further evolution of billboard liberation.

The idea is to transform a billboard from being a medium for a single message — either one purchased by an advertiser or government, or one injected by a billboard liberator — to being a medium for multiple, changing messages from anyone in the community.
How it works
Here's the billboard we targeted. The brooding ego and well-shaven torso of the popular musician of the month. No more annoying perhaps than most other billboards, but certainly ripe for our intended improvements. "Maybe he deserves" a chance to express some of the thoughts behind that pensive expression.
First, we covered over the text of the ad with paint to match the preëxisting background color. Note the painters caps, coveralls, and orange vest. Not shown in the picture are a handful of orange traffic cones. For operations like this, I recommend doing it in broad daylight and looking like you're just doing your job. A clipboard with some forms on it is another good prop.

There's a type of spraypaint that turns the painted surface into a chalkboard, just like the chalkboards in a classroom. We used "Krylon Chalk Board Paint" in green, since the background of the billboard was mostly black to start out with, but they also have a black chalkboard paint.

We added "thought bubble" ovals in white. Then we filled in the larger bubble with the chalkboard paint and repainted its border.
We used a strong, double-sided tape to stick a box of chalk to the billboard. The 3-D box and its tell-tale color scheme are good visual cues to passers-by — better than just leaving chalk lying along the billboard's lower rail.

We included multiple colors of chalk to facilitate the creativity of participants, and to allow contributions from different people to be more easily distinguished from one another.
It's important to pick a billboard that is at sidewalk-level. Other "in arms reach" signs and advertisements can also be used, but not many people are going to climb a pole or rappel off of a building to get at a chalkboard.

Not everyone is interested in participating, but a lot of people are eager to add their own interpretation of what the billboard model might be thinking.
What was he thinking?
Other Links:
Sniggle.net also has a section on more traditional forms of Billboard Liberation.
TTC Yanks NOW's 'Obscene' Ads — Toronto's NOW Magazine put up billboards with a blank space, an attached ink pen, and the caption "Speak Your Mind." These billboards, which had been legitimately bought and paid for by the group, were taken down by transit authorities.
In downtown Charlottesville, Virginia, an artist plans to install a chalkboard seven feet tall and fifty feet long as a memorial to free speech.
---
On This Day in Snigglery
September 26, 2007: The Collier County Sheriff's Office puts out a press release about a powerful new narcotic being used by local children. Called "Jenkem," or "butthash," the drug is made from fermented human waste. It's also complete hogwash. (See Cop Jamming for more such tomfoolery)